Retrial for man wrongly executed
China Daily, November 20, 2014

Adjust font size: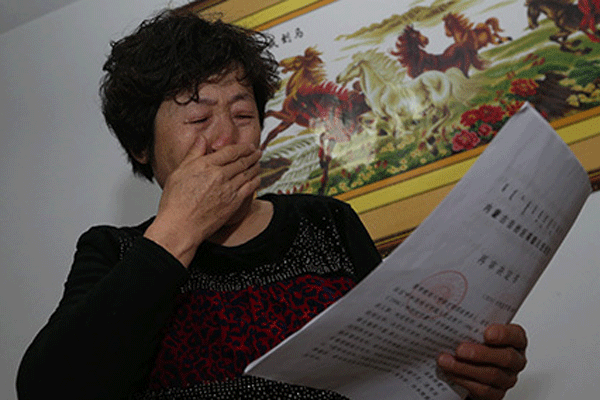 Shang Aiyuan bursts into tears upon receiving the decision of the court to rehear her executed son's murder case at her home in Inner Mongolia autonmous region on Thursday. [Photo/Legal Evening News] 
Eighteen years after a convict was executed for murder, the highest local court in Inner Mongolia autonomous region has decided to rehear the case, reported Xinhua News Agency on Thursday.
Hugjiltu, a member of the Mongolian ethnic group, was convicted as an 18-year-old of raping and choking a woman to death in a toilet at a textile factory in Hohhot, capital of Inner Mongolia autonomous region, in April 1996.
He was executed 61 days after the woman was killed, despite doubts about the evidence. At the time, the local authorities had launched a crackdown against violent crimes, and serious cases were fast-tracked through the courts.
However, in 2005, a man named Zhao Zhihong said he was the murderer. He also confessed to 10 cases of raping and killing women.
Li Shengchen, spokesman of the Higher People's Court in Inner Mongolia Autonomous Region, said Thursday at a news conference that the retrial decision has been sent to the parents of Hugjiltu.
The court found that evidence leading to the conviction of Hugjiltu was "incorrect and insufficient", said Li.
Hugjiltu's mother, Shang Aiyun, has been trying to prove her son's innocence since 2005. Learning that her son's case will be retried, she burst into tears Thursday, "it's a decision that has come too late."
Li added that a collegial panel has been set up for the retrial, which would focus on checking written materials. The court would not hold a public hearing because the plaintiff was executed in 1996, according to Li.
"We would hold the retrial strictly according to the due process and in a fair and timely manner," he said, "If we found the case was wrongly ruled, we will surely correct it according to the due process."