"Greening Silk Road Partnership" to address land degradation
chinagate.cn, November 18, 2014

Adjust font size: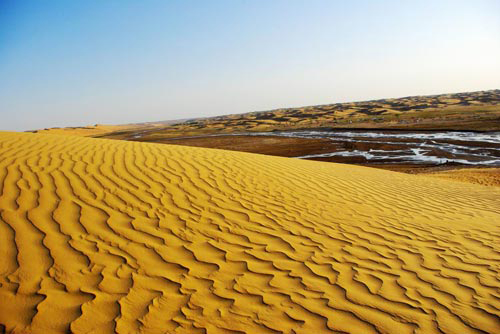 A partnership to combating land degradation and climate change was officially announced today in Sydney jointly by the UNCCD and the China Elion Foundation at the 6th World Park Congress Monday in Sydney. A total of 1.3 billion trees to be planted along the Silk Road in 10 years, the "Greening Silk Road Partnership" sets its eye on mending degraded land and tackling climate change for world peace and security.
UNCCD, which stands for UN Convention of Combating Desertification, is the global leading platform to address desertification and land degradation. And the Elion Group is a leading Chinese company specialized in land remediation and ecological rehabilitation that is home-based in the Kubuqi Desert of Inner Mongolia. The Kubuqi Desert is China's seventh largest desert.
The 1.3 billion trees are expected to rehabilitate more than 1.3 million hectares of land in the ecologically vulnerable regions along the Silk Road and contribute dramatically to carbon sequestration. Desert and desertification present a major challenge to this region's development.
As statistics shows, a total of 500 million hectare of rehabilitated degraded land could sequester about one third of global GHG emissions. And importantly, the effort is aligned with the sustainable development strategy along the Silk Road put forward by Chinese President Xi Jinping at the recently concluded APEC Summit in Beijing.
The world today is embattled by 36 million square kilometers of land classified as deserts and desertification, with an expansion rate of 50,000-70,000 square kilometers every year. More than 2 billion people live in those regions. At Rio+20 in 2012, the UNCCD set a global goal of zero growth of desertification by 2030, as an important element of The Future We Want, the joint statement by all political leaders at the Summit.