China and Australia to sign free trade deal
China Daily, November 17, 2014

Adjust font size: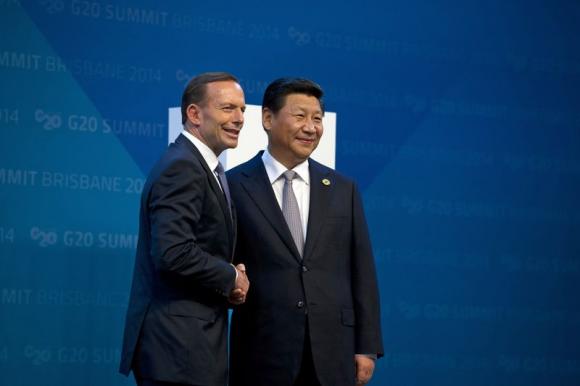 China's President Xi Jinping (right) is welcomed by Australia's Prime Minister Tony Abbott as he arrives for the G20 Summit in Brisbane on Nov 15, 2014. [Photo / Agencies]
China and Australia will sign a free trade deal on Monday that will open up markets worth billions of dollars to Australian exporters.
The deal, which Chinese President Xi Jinping is due to sign in Canberra during a state visit to Australia, is more wide-ranging than many industries had anticipated, thanks to a last- minute breakthrough by Trade Minister Andrew Robb, the Sydney Morning Herald reported.
The agreement will give Australian dairy farmers tariff-free access within four years to China's enormously lucrative infant formula market, minus any of the "safeguard" caps that currently restrict competitors from New Zealand, the newspaper said, citing sources.
Winemakers, currently selling more than A$200 million worth of goods to China each year despite tariffs between 14 and 30 per cent, will also see tariffs eliminated over four years, it reported.
Tariffs on horticultural products, seafood and other goods accounting for 93 percent of Australian exports by value will also be reduced to zero by 2019, according to the newspaper. Tariffs recently imposed on Australian coal will be removed over two years.
Xi is in Canberra on Monday after attending the G20 leaders' summit at the weekend in Brisbane. His visit is also scheduled to include stops in Sydney and Tasmanian state capital Hobart.