China army medics join Ebola battle
China Daily, November 15, 2014

Adjust font size: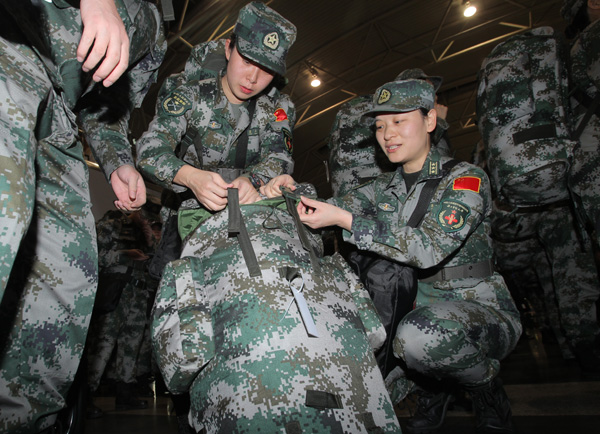 Members of a PLA medical team pack their supplies in Beijing on Friday before setting off for West Africa. More than 200 medical workers and experts will help Liberia and Sierra Leone combat the Ebola virus, which has caused more than 5,000 deaths. [Wang Jing/China Daily]
A 163-strong military medical team left Beijing for Liberia on Friday to bolster China's contribution to the fight against the Ebola virus in West Africa.
It is the first time the country has sent a military group to set up and operate an infectious disease hospital overseas, and the facility will be run as if it were a People's Liberation Army battlefield hospital.
Liberia is the hardest hit country in the Ebola-stricken area. There have been 13,268 Ebola cases in the eight affected countries since the outbreak began, with more than 5,000 deaths, according to the World Health Organization.
The PLA's medical contingent will operate a 100-bed Ebola hospital at a stadium in the capital, Monrovia.
"We will try to get the hospital running as soon as possible," said hospital director Wang Yungui.
The PLA 302 Hospital sent a 41-strong medical team to Sierra Leone on Friday, according to the PLA General Logistics Department.
China has sent more than 260 medical staff workers and experts to Ebola-affected West African countries, said Vice-Premier Liu Yandong, who saw off the medical teams.
The number will reach 400 by the end of this month and increase to 1,000 in the near future, making this China's largest overseas public health assistance effort, Liu said.
"I hope the medical workers and experts can bring China's experience gained through our fight against major epidemics such as SARS to those countries."
Fang Aiqing, vice-minister of commerce, said the government has taken the lead in responding to appeals for help from the affected countries and the WHO.
In addition to providing funds and food, China has also provided materials to affected areas such as protective clothing and goggles, sprays, gauze masks, body thermometers and temperature monitors.