Figures show slow industrial growth
China Daily, November 14, 2014

Adjust font size:
Workers check power transmission lines in Mingguang, Anhui province. Fixed-asset investment growth slowed to 15.9 percent year-on-year for the first 10 months. [Song Weixing / China Daily]
Economists say reduction in 2015 GDP goal appears increasingly likely
Industrial production and fixed-asset investment growth continued to soften in October, which economists said may now persuade China's top leaders to set a lower GDP growth target for next year if momentum remains sluggish.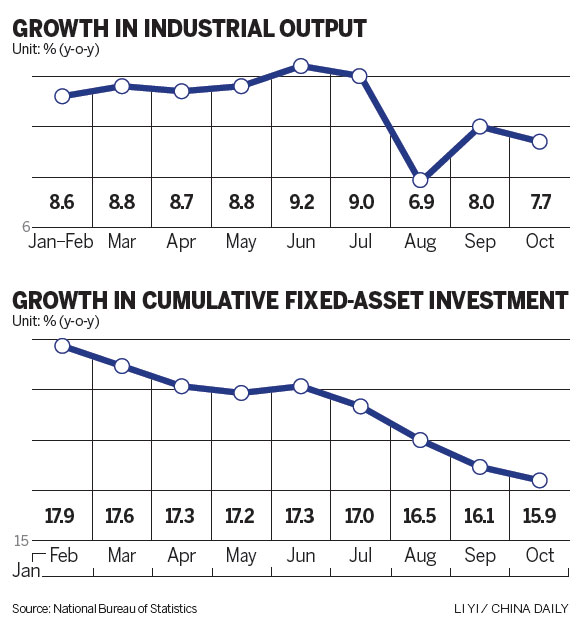 Industrial output growth, a key indicator in GDP growth targets, edged down to 7.7 percent year-on-year during the month, from 8 percent in September, the second-lowest level this year, the National Bureau of Statistics said on Thursday.
Fixed-asset investment growth, another main driver of the world's second-largest economy, slowed to 15.9 percent for the first 10 months compared with 16.1 percent in the January-to-September period.
The NBS also released figures showing retail sales growth edged lower to 11.5 percent, from 11.6 percent in September.
Earlier figures from the NBS showed an October manufacturing Purchasing Managers Index reading of 50.8, down from 51.1 in September, indicating weakened industrial production and new orders.
Experts said the latest figures indicate the economy continues to face downside risks in the fourth quarter. Other recent data have shown sluggish domestic demand, high factory inventories and a gloomy property market.
There has been speculation recently that policymakers may, at the Central Economic Work Conference next month, adjust next year's GDP growth target to 7 percent or even lower from this year's 7.5 percent, while the 3.5 percent inflation target is expected to remain unchanged.
"It would be wise to lower the target to 7 percent, which may help achieve a more balanced and sustainable pattern of growth, as well as deeper economic restructuring," said Liu Ligang, chief economist in China at Australia and New Zealand Banking Group Ltd.
To avoid any sudden cooling in the economy and control excess production capacity, the government is likely to prefer targeted easing measures in the short term, instead of an immediate package of stimulus measures, economists said.
The National Development and Reform Commission recently accelerated its approval of new investment projects, which may help boost infrastructure investment growth in the coming months.
The People's Bank of China, the country's central bank, also injected 770 billion yuan ($126 billion) into the commercial banking system during September and October.
Wang Tao, chief economist in China with UBS AG, said she was worried that the steeper decline in producer prices could put further stress on already-fragile industrial demand.
"Despite a tentative stabilization in conditions, the feeble organic growth momentum still needs additional policy support," she said.
"Bolder moves in easing, however, may have to be considered at the upcoming Central Economic Work Conference in early December."
Louis Kuijs, chief economist at the Royal Bank of Scotland Plc, said he expects the government's economic response to remain restrained, given senior policymakers have already made it clear they would accept GDP growth falling below the government's target of 7.5 percent this year, as long as the labor market holds up.
He forecast 7.3 percent GDP growth for this year, however, and 7.2 percent for 2015.