Blind dates frustrate singles seeking love
Shanghai Daily, November 13, 2014

Adjust font size: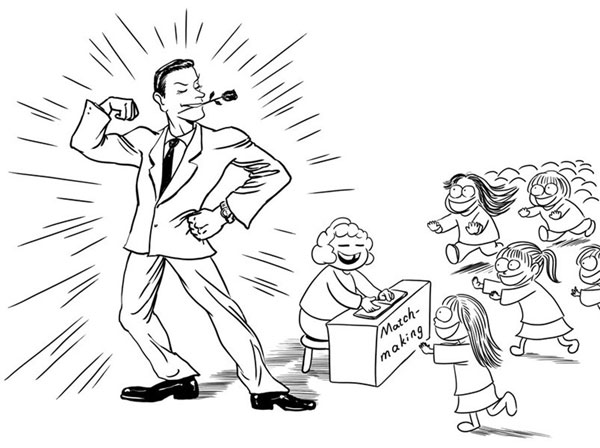 Millions of singles in China, mostly in their mid-20s to their 30s -- and overwhelmingly female -- get involved in blind dates and matchmaking events. [Shanghai Daily]
Christine Wu made a list of her future husband's attributes: A man between two years younger and five years older than her who stands over 1.8 meters tall (about 6 feet). He earns at least 20,000 yuan (US$3,253) a month before tax. He needs to have experience studying abroad and a decent job not working for a pedestrian state-owned enterprise. He has to be nice — bright and with a sunny disposition. Also, he should be pleasing to her eyes.
Wu, 31, looks comely with her medium black hair, pale skin and high cheekbones. She works at a private mutual fund company in charge of administration and claims to get a salary of 600,000 yuan a year.
However, due to her hectic work schedule, time for socializing is very limited. A few weeks ago, she went to a matchmaking company and spent 10,000 yuan to spot her Mr Right. The men should strictly conform to her standards.
"I am fine by myself. So I'd rather remain single than settle for someone even slightly incompatible," says Wu.
She is among millions of singles in China, mostly in their mid-20s to their 30s — and overwhelmingly female — to get involved in blind dates and matchmaking events. They are worried about getting "old" and not finding an ideal life partner during their prime years.
The plight of these young unmarried came to the fore yesterday, China's annual Singles' Day that falls on November 11. It's very common for parents and other senior relatives, worried about their offspring finding a spouse, to arrange or even pressure them into blind dates.
"The tradition of blind dates in China dates back 2,000 years," says Tian Zhaoyuan, a professor of anthropology at East China Normal University. "In the past, children didn't have the right to choose their life partner. Now even though people believe in free love, many parents just feel like standing by and doing nothing."
"With the bombarding blind dates set by my mother, every time I tell her the same story from the first minute to the end, even after two hours," says David Chen, 35, an accountant for an airline company.
Like Wu, many singles and their parents don't mind paying high prices for matchmaking services. Thus, in recent years these companies have sprouted. In China, there are more than 40,000 matchmaking companies, with over 300,000 people making their living in this business, according to the Xinmin Evening News.
Prices for such services vary from a few hundred yuan to tens of thousands yuan, depending on the requirements and personal conditions of the customers. Of course all the matchmaking companies promise to "locate the best one for you."
Sometimes it goes well and two people are introduced, fall in love and live happily ever after. But there can also be serious pitfalls.
Last week a woman surnamed Zhang was reported to have been conned out of 120,000 yuan by her date, whom she thought she had fallen in love with after paying a 2,800-yuan fee to a matchmaking company. But the man, whom the company told her was a real estate manager with two properties in Shanghai and an annual income of 200,000 yuan, started asking her for loans.
They had hit it off straight away and she felt very much in love, so she came up with the money for him. But Zhang started to get suspicious and when she asked her "lover" to give back the money, he vanished. It turned out he was a con man with a fake identity.
A court ruled the matchmaking company must refund Zhang's 2,800-yuan matchmaking fee because it had not verified the man's identity. But it was not held liable for her other losses.
Higher prices paid to matchmaking firms often can ensure better service quality, including thorough verification and dates with better qualities. Wu has met three men so far (once a week on average). She rejected two of them — one for "no chemistry" and another for being "super boring." But at least they all met her standards. She is dating the third man — a reporter, although she finds it a bit hard to believe his monthly salary can reach 20,000 yuan.
Helen Li, 29, bought a similar product at the same price as Wu five months ago.
"My mother forced me to break up with my ex-boyfriend because he's not rich enough, so I came to the matchmaking agency with clear standards — a man with high income and who has at least one apartment in downtown Shanghai and a car," she says.
The matchmaker selected about 10 men that fit her standards. If she needed to see more, there would be an extra cost. The company promised that the information about the dates is all true. It requires the man's ID card, property ownership certificates and other relative certifications for confirmation.
After 10 dates, the right man didn't show up for Li. They were either not good enough for her or she was not good enough for them. She paid an extra cost to see more people, but it still didn't work out. So she had spent 14,000 yuan in vain.
"You have to make some compromise and give chances to older men around 40 or who are not very good-looking," her matchmaker told Li. "It is almost impossible to find a man who is both handsome and rich here, especially if you are not young anymore."
"Did you hear her words? Like I don't deserve a man who is cute and decent," Li says, a bit crossly.
A graduate of one of China's top universities, Li works in a foreign company in marketing. Wearing an elegant, softly tailored suit, Li looks outside a cafe window. She is frustrated and for the first time doubts her self-esteem after so many blind date failures. Yet Li, like most women, will only marry a man who is equal to or better than her in position and wealth.
According to Vivian Zhu, a professional matchmaker for over 10 years, men usually don't need to even pay the matchmaking fee. "All they need to do is to provide their ID card and other information and wait to see various girls. The market need them," she says.
Yu Hai, a sociologist from Fudan University, blames "the cultural psychology deeply rooted into the mind of Chinese people that women approaching 30 are going to get left on the shelf."
"So if a young woman passes 25 and remains single, all of the family start to talk and worry about her love life," he says. "With the pressure from family and the society, it is hard for single women to remain relaxed and confident, even though they are not worried at all in the first place."
In the past, when women in China had a low social and economic position, their most important target in life was getting prepared for marriage. Many went to schools to be cultured to attract a better spouse.
"Now women have their careers and ambitions like men do, but the problem is that society's conventional ideas about marriage haven't changed that much," says the professor.