Mortgage easing boosts new home sales in October
China Daily, November 6, 2014

Adjust font size:

The latest data from private property developers confirm that new home sales accelerated considerably in October following the government's stimulus policies, but doubts remain whether the upswing can be maintained until the end of the year.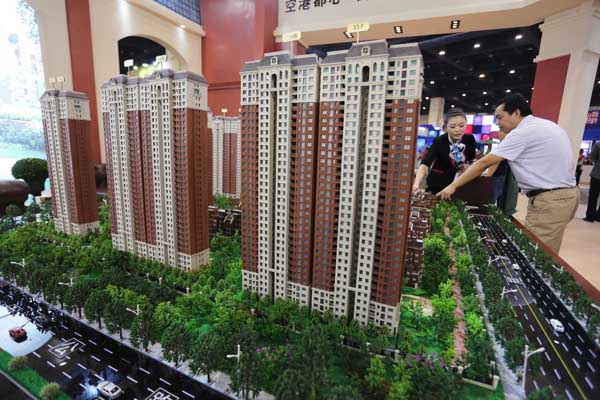 Potential homebuyers visit a housing expo in Zhengzhou, Henan province. Of the 46 cities that had restrictions on home purchases, only six - including Beijing, Shanghai, Guangzhou and Shenzhen - maintain those curbs. GENG GUOQING / FOR CHINA DAILY
October new residential property sales in 30 cities rose 24.3 percent over September to 18.37 million square meters in total, according to E-House (China) Holdings Ltd, a leading real estate services company.
Its figures also showed the largest number of monthly housing sales so far this year, with 27 of the cities monitored reporting transactions increased for the fourth consecutive month.
Government measures aimed at expanding the pool of potential homebuyers were introduced on Sept 30 in an effort to avert a sharp slowdown in the country's property market, including an easing in mortgage rules and the amount buyers can borrow.
Mortgages on second homes, for instance, are now treated as a first mortgage if the buyer has paid off the first loan.
Then on Oct 29, the State Council, China's cabinet, announced a further series of measures that included relaxing terms for withdrawing housing provident funds to pay rent, and ramping up the building of subsidized housing.
The cabinet's aim, it said, was to stabilize housing consumption.
A breakdown of the latest figures from E-House gives one of the most accurate pictures yet of how the measures have affected sales in cities.
They show first-tier cities saw the strongest rebound, with total sales surging 40.3 percent over September. Third-tier cities saw the second strongest upsurge with combined sales up 35.8 percent, while second-tier cities such as Changchun and Nanchang, which are facing the country's largest housing inventory pressures - saw a pickup of 17.7 percent, according to the findings.
Of the first-tier cities, Guangzhou saw the biggest month-on-month rise of 63.1 percent while Beijing saw the most moderate growth, of 17.4 percent.
Yan Yuejin, an analyst with E-House, explained that Beijing's rises came prior to the latest stimulus policies, so September's data offered a better comparison.
"The rebound in Beijing is still solid, confirmed by a strong upsurge in sales in the used property market," Yan said.
Du Bingguo, chief analyst with China Index Academy, the country's largest independent property research organization with more than 15 offices nationwide, said as pent-up demand slowly diminishes, November and December sales are likely to slow, but still remain at a relatively high level.
Overall sales in the fourth quarter are likely to be close to those of the final quarter of 2013, which were themselves at a higher level, said Du.
Yan is even more optimistic, forecasting that sales will climb in the last two months of the year, given the shift in market sentiment and cheaper mortgages.
Figures from the academy show that the average price of a new home in 100 major cities in October fell for the sixth straight month, to 10,629 yuan ($1,730) per square meter, down 0.4 percent from September.
Du said that as developers become anxious to reduce growing inventories of properties, to make way for new housing projects, supply will increase and prices are unlikely to rise.
Analysts are predicting that with mortgage rates unlikely to fall, home sales will remain subdued toward the end of the year, as will prices.