World Trade Center reopens with 6-floor China Center
China Daily, November 5, 2014

Adjust font size: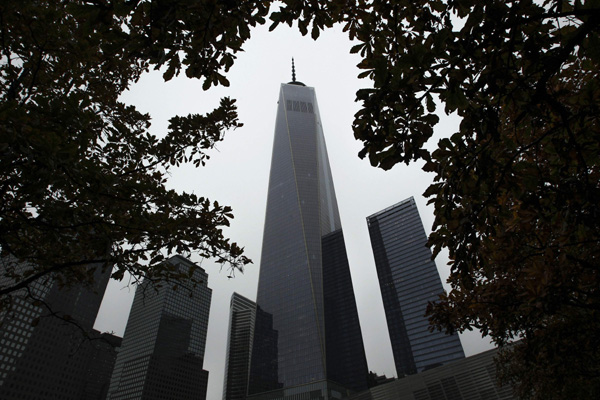 General view of the One World Trade Center in New York November 1, 2014. [Photo/China Daily via agencies]
The new World Trade Center, which rose from the ashes of the Sept 11, 2001 terror attack, opened for business Monday with a six-story China Center.
On the first day, 175 employees of the magazine publishing giant Conde Nast settled into their work.
The China Center, which occupies the 64th through 69th floors and is expected to come into use by the end of this year, will house serviced office suites, virtual office, conference and event space, restaurants, bar, and a membership club, according to the official website of the Center.
"China Center is the first-of-its-kind where top social, business and cultural leaders from China and US gather under one roof to spur interactive and growth opportunities," said the website.
The Center is under a 23-year lease of the Beijing Vantone Industrial Company with annual rent starting at $80 per square foot for about a total of 190,000 square feet , according to the website of the New York Times.
The company was not available for comment as of the writing of the story.
"This is an important step for Vantone to expand in the US market by taking advantage of the high-profile and prime location of the widely known skyscraper," said Jing Ji, a Beijing-based senior overseas investment consultant with Well Trend United Consulting.
"The risk is rather low for the company as it chose to rent rather than buy the building," Jing added.