A New Milestone on Animal Welfare Education in China
chinagate.cn, October 31, 2014

Adjust font size: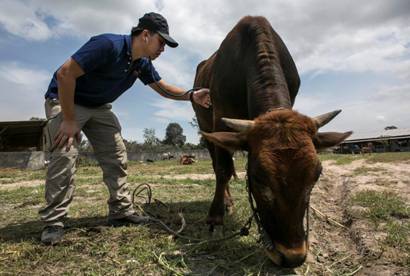 Introduction to Animal Welfare, the teaching material of animal welfare jointly compiled by the World Animal Protection and the Chinese Veterinary Medical Association (CVMA), was formally released last week.
Having Mr. JiaYouling, former chief veterinary officerof China, as the chief editor, this teaching material has been compiled with reference to the latest progress of OIE and international animal welfare science and the national conditions of China. As such, it is expected to become a basic teaching material customized for veterinary majors and professionals in China. It signifies a brand-new development stage of animal welfare in China while promoting the popularization and development of animal welfare education in China.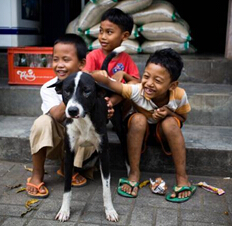 As professionals having the most extensive contacts with animals, veterinaries play an important role in animal welfare work and are expected to directly alleviate the pains of animals or provide professional advice to relevant enterprises and governmental authorities. We have to say veterinarians are the first supervisors of animal welfare conditions and the educators and practitioners of animal welfare. However, the national survey jointly conducted by the World Animal Protection and the CVMA on the animal welfare education conditions of Chinese veterinary universities in 2012 shows that only about 50% of these universities have established animal welfare-related courses, far below the level of EU nations. After more than one year's preparations, compilations and revisions, the Introduction to Animal Welfare was formally released, signifying a new milestone in animal welfare education of China.
As stated by Mr. JiaYouling, one of the promoters of Introduction to Animal Welfare and president of CVMA, "one of the duties of CVMA is to promote the general caliber and technical capacity of Chinese veterinaries and animal welfare is one of the essential parts of this duty. The release of Introduction to Animal Welfare is a milestone. We expect to further promote the development of animal welfare in China through the strategic partnership with the World Animal Protection. In the future, we will actively promote to incorporate animal welfare into the qualification assessment of practicing veterinaries.
Committed to animal protection, the World Animal Protection has actively worked to strengthen and promote animal protection concepts and practices. As stated by Dr. Natasha Lee, Asia-pacific Veterinary Programme Manager,World Animal Protection. "World Animal Protection has long cooperated with the OIE, the World Veterinary Association (WVA) and other major veterinary organizations of the world and the veterinary associations of major countries with an aim to promote education of animal welfare. Our partnership with CVMA is an important constituent of our global strategy."
As mentioned by Mr. Zhao Zhonghua,the China Country Director of World Animal Protection, "through establishing the animal welfare education policies with global standards, we expect to turn Chinese veterinary schools into excellent centers for animal welfare education, develop outstanding veterinary graduates and contribute to the improvement animal welfare in China".