ICBC battles rise in bad loans
China Daily via Agencies, October 31, 2014

Adjust font size:

Growing challenges at home may mean further expansion overseas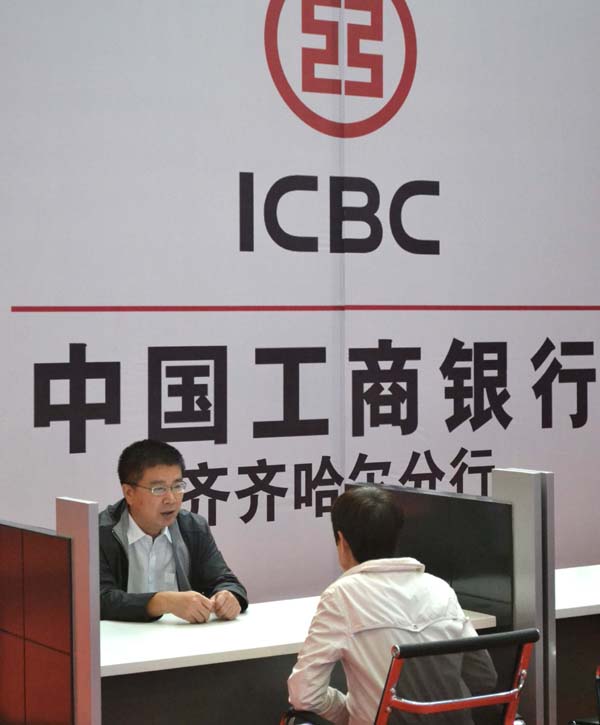 ICBC's non-performing loans rose to 115.5 billion yuan ($18.83 billion) in September from 105.7 billion yuan in June. [Provided to China Daily]
Industrial & Commercial Bank of China Ltd, the world's largest lender by assets, reported its biggest jump in bad loans since at least 2006 as the property market slumped and the economy cooled.
Non-performing loans rose 9 percent in the third quarter from the previous three months, the Beijing-based bank said in a stock exchange filing on Wednesday. Net income gained 7.7 percent from a year earlier to 72.4 billion yuan ($11.8 billion), matching the median analyst estimate in a Bloomberg News survey.
A struggling Chinese economy is weighing on ICBC's share price and is poised to drag the company to its weakest full-year profit growth since at least 2001 as more borrowers default.
Challenges at home may encourage the bank to add to an overseas expansion that already spans Asia, South America and Europe.
"ICBC remains under pressure as bad loans in China continue to rise," Zheng Chunming, a Shanghai-based analyst at Capital Securities Corp, said on Wednesday. "The operating environment for companies is getting more difficult as China's economy faces downward pressure."
ICBC's non-performing loans rose to 115.5 billion yuan in September from 105.7 billion yuan in June-the increase was the biggest since quarterly data became available after the bank's listing in 2006. Non-performing credit accounted for 1.06 percent of total advances.
China's economy will grow 7.4 percent this year, the least since 1990, amid a property slowdown, according to analysts' median forecast.
In its overseas push, ICBC this year acquired a Turkish lender, won approvals for a branch in London and yuan clearing operations in Luxembourg and Cambodia, and obtained a banking license in Myanmar. The lender previously expanded in Argentina, Canada, South Africa, Thailand and Indonesia.
Operations outside China accounted for 7.1 percent of company assets as of June, up from 6 percent a year earlier.
ICBC set aside 8.2 billion yuan of provisions against potential soured credit, 30 percent more than a year earlier.
"Provision charges will be the biggest swing factor for banks' earnings," said Mu Hua, a Guangzhou-based analyst at GF Securities Co. "The more bad loans they write off, the more additional provisions they need to set aside to maintain the required coverage ratio."
ICBC's full-year profit may grow 5 percent this year, the least in data stretching back to 2001, according to the average of estimates compiled by Bloomberg.