Rail convergence goes on fast track
China Daily, October 29, 2014

Adjust font size: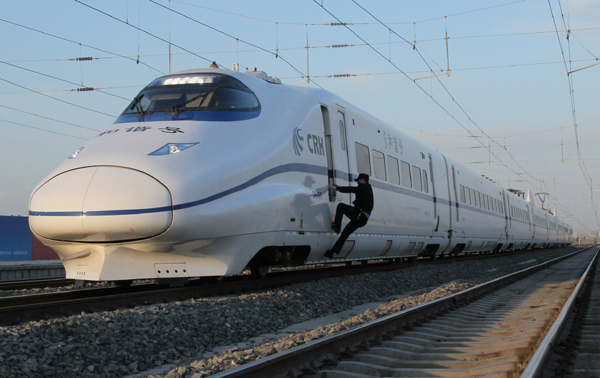 A test-running bullet train at the Hami station in Xinjiang Uygur autonomous region. The high-speed railway from Lanzhou, Gansu province, to Urumqi, Xinjiang, is expected to go into service at the end of this year. [China Daily]
The impending merger of China's top trainmakers, China CNR and CSR Corp, will end the harmful price war between the two companies in overseas markets and give the merged entity a clear edge over other global peers, industry experts said on Tuesday.
The government has ordered the merger of CNR and CSR into one company to fuel robust growth, according to a Bloomberg report on Tuesday.
Both companies had suspended trading in their shares in Shanghai and Hong Kong stock exchanges on Monday and said they would make a major announcement within five working days.
Wang Mengshu, an academic at the Chinese Academy of Engineering and an ardent supporter of the move, said the merger is not just about making a change, but a step to prevent unhealthy competition and aid the further development of China's rail and relevant industries.
Bloomberg reported that details of the transaction are yet to be set, with China International Capital Corp said to be drafting the plan for merging the two companies' listed arms.
The merger of the listed units will create a company with $33.6 billion of sales and $1.44 billion net income in the past 12 months, according to data compiled by Bloomberg. China CNR Corp and CSR Corp have a combined market value of $26 billion in Hong Kong trading and employed 172,647 workers at the end of 2013.
Eager to grab more share in the overseas market, CNR and CSR have often been competing fiercely against each other to win orders. Examples of these include the 2011 locomotive project in Turkey, the electric locomotive bid in Argentina last year and projects in several other global markets.
Though the Chinese trainmakers did not face much difficulty in surpassing the prices offered by peers from Europe, Canada, Japan and South Korea, they had to confront each other with even lower prices to win the order.
"The irrational competition between two Chinese counterparts squeezed profit margins and sometimes pushed them to fight for orders, a situation in which no profit could be earned," said Wang.
CNR and CSR were initially part of China National Railway Locomotive and Rolling Stock Industry Co, the trainmaker under the defunct Ministry of Railways.
The ministry divided the company into two parts - CNR and CSR - in 2000, and they equally shared 40 train factories, part plants and research institutes owned by the parent company in accordance with their geographical location.
In the domestic market, the northern part of China is CNR's market focus, while the southern China market is seen as a CSR stronghold.
After operating high-speed trains in the domestic market for more than five years, China's high-speed trains and other advanced trains have become pillar items in the nation's high-tech product exports.
Feng Hao, a researcher at the Institute of Comprehensive Transportation at the National Development and Reform Commission, said the consolidation would boost export flexibility and the chances to win more overseas orders.
"The continued price war between the two companies has not only cut profits, but also affected China's ability to sell high-tech products such as high-speed trains and electric multiple-units in the global market," said Feng.
Thanks to big-ticket subway orders placed by Boston transport authorities last week, the share prices of CNR and CSR both rose on Friday, which also boosted the stock value of other rail-related companies in the past three days, including railway infrastructure construction, rail parts and new material companies.