Hanergy PV builds solar panels into company HQ
china.org.cn / chinagate.cn by Chen Boyuan, October 28, 2014

Adjust font size:

China's leading clean energy supplier Hanergy has started switching to solar power generated from solar panels integrated into buildings at its headquarters in Beijing, as the company announced the start of its building integrated photovoltaic (BIPV) project on Monday.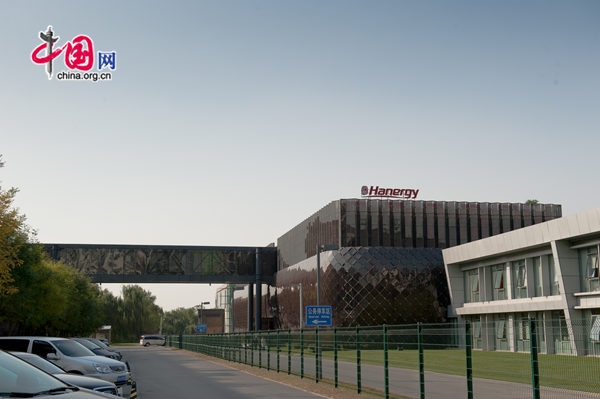 Hanergy has integrated solar panels into its office buildings at the company's headquarters in Beijing. [Photo by Chen Boyuan / China.org.cn]
The BIPV projects, which consist of solar panels installed on the rooftops and curtain walls of buildings as well as parking sites, have a total capacity of 600 kilowatts, or 20 percent of the company headquarters' power demand. Hanergy is expected to rely completely on its own PV power when the second phase of the BIPV project is completed.
Hanergy Holding's founder and Chairman Li Hejun put forward the BIPV notion in March 2012 when he submitted the proposal to the annual Chinese People's Political Consultative Conference (CPPCC). In the proposal, Li, a CPPCC national member, said distributed power generation and thin-film, flexible solar panels represented the future of solar power applications. Li also said that "BIPV would start to power the Hanergy headquarters in four years," although the actual switch to solar power came two years earlier.
The switch to solar power will save the company some 4.38 million yuan (US$71.29 million) in electricity costs, and the company will also be awarded a national subsidy for distributed power consumption, which would amount to 1.26 million yuan (US$205.21 thousand) each year, according to Hanergy's statement.
The BIPV project is expected to reduce carbon dioxide emissions by 25,000 tons each year, equivalent to planting 140,000 new trees, or grounding 780 cars for a year, said Dai Mingfang, vice chairman and CEO of Hanergy Power, one of Hanergy Holding's subsidiaries.
Apart from economic considerations, using self-generated polar power on its own office buildings is also a promotion for both Hanergy's thin-film solar panel products as well as the company's involvement in clean energy, which also includes hydropower and wind power.