Mixed messages from Jeju pose hurdles for Chinese investors
China Daily, October 27, 2014

Adjust font size: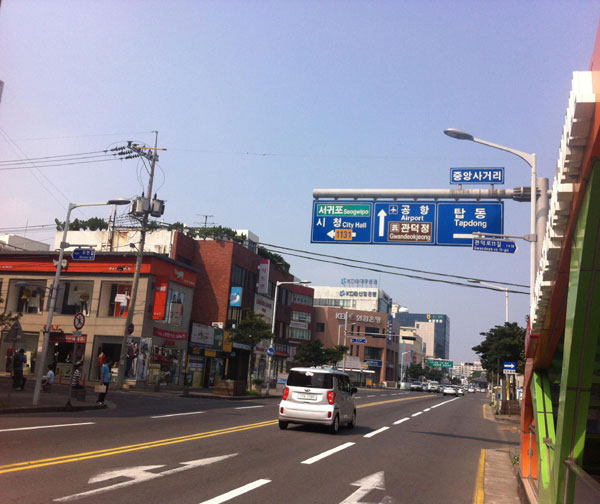 A commercial street leading to Jeju Airport at Jeju, South Korea. It is near Seogwipo, a major location for residential property on the island. [Provided to China Daily]
Won Hee-ryong, the governor of Jeju province in South Korea, had strong words to say about Chinese property investors during his election campaign earlier this year.
He criticized the "opportunistic capital" flowing from China into the local real estate market and warned that Chinese developers were intent on seizing land to turn it into a "Chinatown" that would intrude into local people's lives.
After Won's comfortable win in June, the island province at the southern tip of South Korea tightened its policies on foreign real estate investment and immigration, making it more difficult for Chinese real estate developers and investor immigrants to invest in the region.
As housing prices in Europe and the United States increase year by year, Chinese investors are turning to other regions that have just opened their doors to newcomers. Jeju, an island with beautiful views that is often compared to Hawaii and close proximity to China, has become a new destination for property investment.
The low housing prices in Jeju have attracted many Chinese individual investors. It is possible to buy a 100-squaremeter apartment on the island for 3 to 4 million yuan ($490,000 to $653,000), with an average price per square meter of less than 30,000 yuan.
South Korean real estate purchased by Chinese investors stood at 485,000 square meters by late March 2013, up nearly tenfold from 49,000 sq m in 2010. By the end of the same quarter, land newly purchased by Chinese amounted to 400,000 sq m, far more than the 140,000 sq m by Europeans and 90,000 sq m by Americans.
Thanks to the favorable investment immigration policies implemented in 2010, the value of apartments on the island has been rising about 10 percent annually.
"Real estate developers closely follow the steps of homebuyers," says Cai Weimin, a professor at Fudan University in Shangahi. "As more Chinese individuals flock to Jeju, Chinese developers follow suit."
However, the fast growth of projects developed by Chinese companies has pushed up housing prices, causing concern among locals. The price per square meter has risen to around 30,000 yuan in 2014, from 7,000 yuan in 2010. Plus, local residents worry that construction projects are damaging the environment.
In a move to counter this concern, the new administration demanded that construction projects approved by the previous administration should go through scrutiny all over again.
"Foreign investment faces the inherent risk of changing policies," says Mei Xinyu, a researcher at the International Trade and Economic Cooperation Institute affiliated with the Ministry of Commerce, "particularly in democratic countries where election candidates often take advantage of the hostility against foreign capital, commodities, enterprises and laborers in order to gain votes. Investors need to re-gauge the risks involved".
Won, shortly after he took office, asked the Landing Investment Group in China, which has invested in a history-themed park in Jeju, to submit its application again for approval by the new government under the new regulation. The area invested by Landing Investment was to be turned into a complex with parks, hotels and vacation villages by 2018, with a total investment of $2.5 billion.
A 218-meter building, to be constructed in a 6 billion yuan co-investment by Greenland Group in China and Lotte Group in South Korea, has been suspended because of the stricter policies.
However, not all Chinese-funded projects have been blocked. The Beijing unit of Meitong International Investment has signed an agreement with ORCA Group in South Korea to make a 30 billion yuan investment in real estate development projects, which is so far the biggest foreign investment in South Korea. Chinese consumers are very important to the economy in Jeju. Among the 2 million foreign visitors to the island in 2013, more than half came from the Chinese mainland.