Occupy Movement damages economy, social order
Xinhua, October 27, 2014

Adjust font size: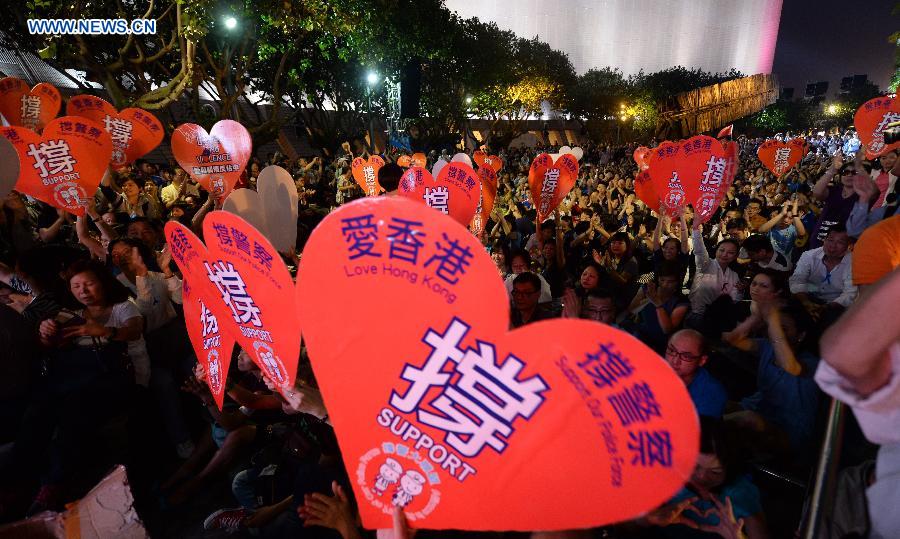 Citizens take part in an evening party held to bless Hong Kong and support local police at a square in Tsim Sha Tsui, Hong Kong, south China, Oct. 25, 2014. [Xinhua/Qin Qing]
Several Hong Kong business leaders have criticized the month-long Occupy Central Movement, saying the illegal movement has disrupted Hong Kong's social order and would cause long-term damage to the business environment of the Asian financial center.
Cheng Kar-shun, chairman of the New World Development and a Standing Committee member of the Chinese People's Political Consultative Conference (CPPCC), told local media that the fact the organizers of the Occupy Central Movement are sacrificing Hong Kong people's interests to pursue democracy indicated no sense of democracy.
Noting some protesting students' passion is being used, he urged the students to see strait the reality and withdraw from the occupied districts.
Rule of law is the cornerstone of Hong Kong, and the illegal movement will ruin it, he said, adding that he could not understand why some jurisprudents would deliberately break the law by instigating other people to participate in the illegal activity.
Li Ka-shing, chair of the Cheung Kong (Holdings) Limited, has urged the protesters to go back home. He said in a statement that if Hong Kong's rule of law breaks down, it would be the "greatest sorrow" for the region.
"I urge everyone not to be agitated and not to let today's passion become tomorrow's regrets," he said.
Another real estate tycoon, Lee Shau-kee, chairman of Henderson Land Development, criticized the movement is an act of destruction that not only posed adverse impact on Hong Kong's economy, finance and social prosperity but also harmed its international reputation.