New proposals for care of the elderly
China Daily, October 24, 2014

Adjust font size:

The government is looking at ways to relieve the stresses on the elderly and their relativesas China faces the challenge of an aging population.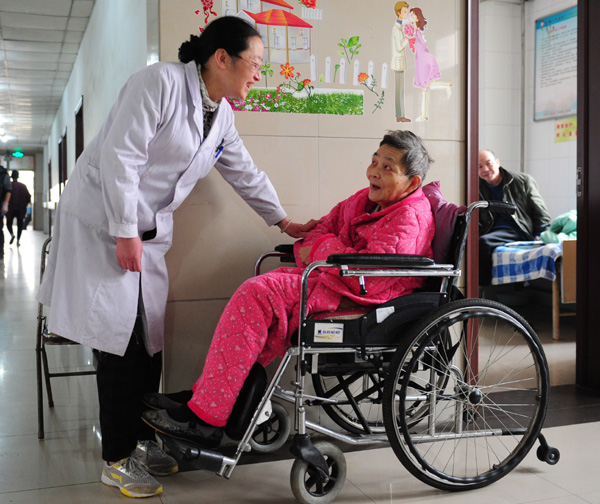 Si Dongmei (left), director of nursing at a medical care institute for elderly people who are unable to live independently because of illness or disability, in Xi'an, Shaanxi province, chats with a resident. Photos By Ding Haitao / Xinhua
China is considering introducing a government-backed, long-term insurance program to provide high-quality, sustainable care for elderly people who are prevented from living independently by illness or disability, according to Du Peng, director of the Institute of Gerontology under Renmin University of China.
Du, who is close to senior decision makers, said: "To cover as many people as possible, the policy needs to be compulsory and held by the government, in the same way that China's health insurance works."
Under the policy, people will start to pay premiums at a certain age, for example 45, and will benefit from the policy in later life if illness or disability means they are unable to live independently for a period of six consecutive months, he added.
There were 180 million people aged 60 and older on the Chinese mainland by the end of 2010, and at least 9 percent of them were completely reliant on other people, according to the latest census statistics. Statistics from the China National Committee on Aging show that more than 47 million elderly people in rural areas are now living alone because their children have moved to cities and large towns for work.
In urban areas, the first children born under China's family planning policy, which until recently limited most couples to one child, are now in their early 30s, and are facing huge pressures because of the need to take care of their parents, especially if the parents are disabled.
Social changes have resulted in large numbers of elderly people living on their own in "empty nests", which means they rarely receive any help from their children, Du said.
"People such as this, and the nation as a whole, are in urgent need of a long-term-care insurance policy, particularly because the nation is aging rapidly and the traditional model that care of the elderly is the duty of the family is hardly sustainable today," he added.
A tough challenge
Wu Yushao, deputy director of the China National Working Commission on Aging, said China is facing a tough challenge to look after older citizens, and urged the government to shoulder more of the responsibility for providing care for them.
"The country should start building up an old-age-care mechanism, especially for people whose children have left home, and who are unable to live independently," he said. "Insurance policies, such as long-term care and cover for accidental injury, should be considered first," he said.
Four countries - Germany, Japan, the Netherlands, and the Republic of Korea - have introduced long-term care insurance systems, according to the World Health Organization.
"But it will take years to set up a similar program, because a huge amount of preparatory work will be required before it can be implemented successfully," Du said.
Wang Yiming, deputy chairman of the Department of Finance at Peking University, suggested that the government should initially test the policy in economically well-off regions.
"Alternatively, it could start as a commercial program, and gradually evolve into a government-run public program when the government is ready," he said.
Du said that although similar programs are available from commercial insurance companies, they only cover a few tens of thousands of people on the mainland. "They haven't been well-received, and the insurance companies are reluctant to promote these policies because of a number of uncertainties, such as assessment of costs and relatively low public awareness," he added.
Wang Baosheng, a 49-year-old resident of the Chaoyang district of Beijing, said he was not aware that such policies existed. In recent years, he and his wife have struggled to take care of his elderly parents.
Wang's father passed away in 2012 at the age of 86. His mother is 87. "My mother was diagnosed with Alzheimer's disease in 2005. My father was diagnosed in 2009. They came to Beijing from Tangshan (in Hebei province) 11 years ago," Wang said.
"My father was in the hospital for about 10 days before he passed away, so my wife and I took turns taking care of him there," he said. The couple's lives were made doubly stressful by the need to take care of Wang's mother, who lives with them.
"My mother doesn't sleep well now, and needs our care 70 percent of the time. My father often got up three times a night - sometimes to go to the bathroom, sometimes to eat. Whenever he got up, we had to get up too," he said.
They were unable to afford the 3,600 yuan ($588) a month it would cost to hire a nurse to stay at the house regularly.
"My wife can't go to work because she needs to take care of my mom. It would really help if the long-term care insurance covered my family, but that would be unlikely because my mother doesn't have a Beijing hukou (household registration)," Wang said. Most public services, such as healthcare, care for the elderly, and education, are related to the hukou system, which usually only allows a person access to those services in the place they are registered.
"We all have parents. They raised us. It's natural that we should take care of them as they get older," Wang said.