Tong Lihua: legal assistance to needy people
china.org.cn / chinagate.cn, October 17, 2014

Adjust font size: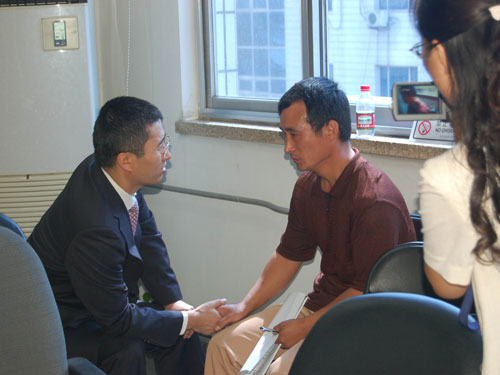 In September 2007, Tong visited a migrant worker he had helped.
Born in 1971, Tong Lihua enjoys a reputation for his devotion to his job as a public interest attorney. For the over past 15 years, Tong and his team have provided free legal assistance to over 430,000 minors, migrant workers and women in need, effectively solving social conflicts that might have led to more serious problems.
Tong graduated from China University of Political Science and Law in 1995 and joined Beijing Zhicheng Law Firm. After three years of hard work, Tong was promoted to director of the firm. Tong, who has always been enthusiastic to serve the public interest, then established China's first center for legal aid and research for teenagers in 1999. Six years later, he established the nation's first legal aid and research center for migrant workers.
Twenty-five migrant workers finished their jobs at a construction site in Beijing, but they were kicked out without getting any payment. Desperate and helpless, they sought help from Zhicheng Law Firm. To solve the pressing problem of their basic needs, Tong first lent them 100 yuan per person for food. Then Tong negotiated with the employer and finally got part of the of 20,000 yuan salary for the workers. After the lawsuit concluded, Tong also helped them regain the remaining 33,976 yuan. The 25 migrant workers were so happy and moved by Tong's graciousness that they sent Tong a silk flag as a token of their appreciation.
Since the migrant workers' legal aid and research center was established in 2005, Tong and his fellows have helped more than 6,300 workers to get salary and compensation totaling over 52 million yuan.
However, Tong clearly understands that he can only help one person or a few people in each case, while creating good regulations can benefit many more people. Therefore, for the past few years, Tong has led professional attorneys and research fellows at his law firm in researching hot-button issues such as minors' medical insurance and assistance to orphans and abandoned children. He and his team have published more than 30 books regarding the protection of minors in China.
Tong has also participated in drafting and amending laws and regulations, such as the Beijing Legal Assistance Regulations and Children's Welfare Regulations, to enhance the protection of disadvantaged people at the level of the law. After launching in-depth research, Tong and his colleagues released a series of reports on issues facing migrant workers that drew wide attention from society at large.
Tong, an ordinary lawyer, will never slow in his pursuit of promoting social justice and helping disadvantaged individuals.