Chinese, Italian companies sign US$10 bln deals
Xinhua, October 15, 2014

Adjust font size:

Chinese and Italian companies signed deals worth 8 billion euros (more than 10 billion U.S. dollars) Tuesday, a highlight of Chinese Premier Li Keqiang's visit to Italy.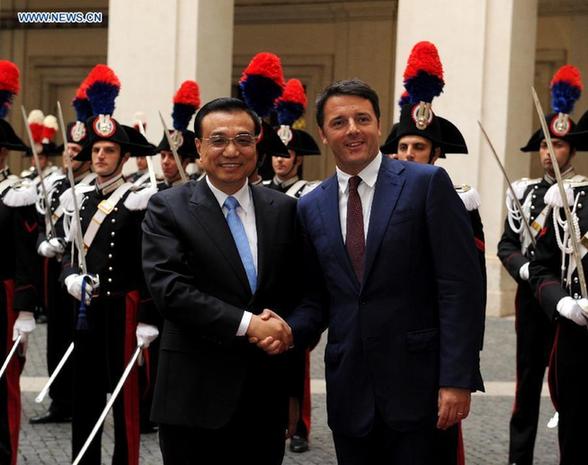 Chinese Premier Li Keqiang (L front) shakes hands with Italian Prime Minister Matteo Renzi during a welcoming ceremony in Rome, Italy, Oct. 14, 2014. [Photo/Xinhua] 
The deals were signed by business leaders from the Chinese-Italian committee of entrepreneurs, which was founded four months ago.
Appearing together with his Italian counterpart Matteo Renzi at an event attended by the committee members and other entrepreneurs from the two countries, Li said the deals, mainly covering two-way investment and technological and financial cooperation, have transcended the traditional buy-and-sell model to demonstrate the high-level coordination of the two countries.
Li said the business sectors of the two nations are the main force to promote the bilateral cooperation.
As the two nations have entered the age of innovative development, he said, it is hoped that entrepreneurs from both countries could seize the opportunity, complement each other and expand cooperation, so as to forge a comprehensive partnership.
Renzi said that Italy and China enjoy a traditional friendship and a solid basis for cooperation, adding that Italy is willing to work with China to address the challenges brought by economic globalization..
He said he hopes entrepreneurs from both sides to develop the spirit of innovation and expand trade, investment and financial cooperation for the mutual benefits of the two peoples.
Li is visiting Italy at the invitation of Renzi. He left Moscow earlier in the day after holding the 19th China-Russia Prime Ministers' Regular Meeting with his counterpart Dmitry Medvedev.
Italy is the last stop of Li's three-nation Europe tour, which has taken him to Germany and Russia.