Beijing given 10% of central funds to curb air pollution
Xinhua, October 14, 2014

Adjust font size:

The heavy smog in Beijing last week has once again focused attention on the city's air pollution.

In May, the central government allocated 10 billion yuan ($1.6 billion) to three major industrial zones to curb air pollution in 2014, double the amount allocated in 2013, according to the Ministry of Finance.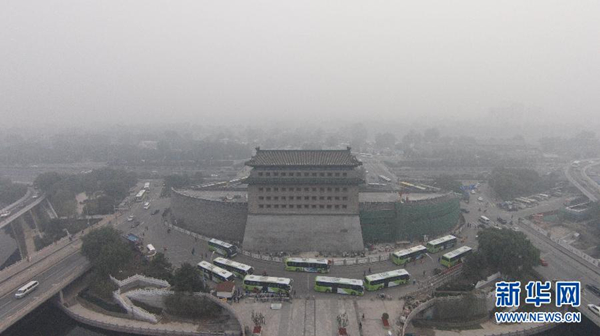 Dense smog shrouds Beijing on Oct. 10. [Photo/Xinhua] 
"Of the government funds, Beijing will get 1 billion yuan to support the work in reducing air pollution this year," said Fang Li, deputy director of Beijing Environmental Protection Bureau on Monday.
Beijing received 700 million yuan in 2013 to reduce air pollution, Fang added.
"Though there has been no detailed allocation plan of the doubled special funds in 2014, it should be used in the fields involved with public interests, such as improving the public transportation system, since the funds are from taxes," said Ma Zhong, head of Renmin University of China's School of Environment and Natural Resources.
"But the 10 billion yuan is far from enough to make up the economic loss for the provinces when they shut down polluting industries," Ma said.
For example, Beijing allocated subsidies of more than 18 billion yuan for its public traffic system in 2013.
Beijing has set a target of cutting its annual average PM2.5 concentration by 25 percent by 2017.
PM2.5 refers to particles about 100 times thinner than a human hair that are small enough to enter the lungs and bloodstream.
In order to reach the goal, Beijing will inject 760 billion yuan by 2017, the municipal government said.
"For the people's livelihood and a good environment, it may cost that amount, but it is worth spending," Beijing Mayor Wang Anshun said earlier this year.
In May, the central government allocated 8 billion yuan to accelerate air pollution treatment in the delta areas of the Pearl River and Yangtze River, and the region covering Beijing, Tianjin, Hebei, Shandong, Shanxi provinces and Inner Mongolia autonomous region.
The remaining 2 billion yuan was earmarked for the Beijing, Tianjin and Hebei trilateral zone.
The Ministry of Environmental Protection's report on the 74 major cities' air quality in August showed that seven of the top 10 cities with the worst air pollution are in Hebei province.
Beijing is listed as the seventh worst.