Jump-start for new-energy vehicles
China Daily, October 13, 2014

Adjust font size: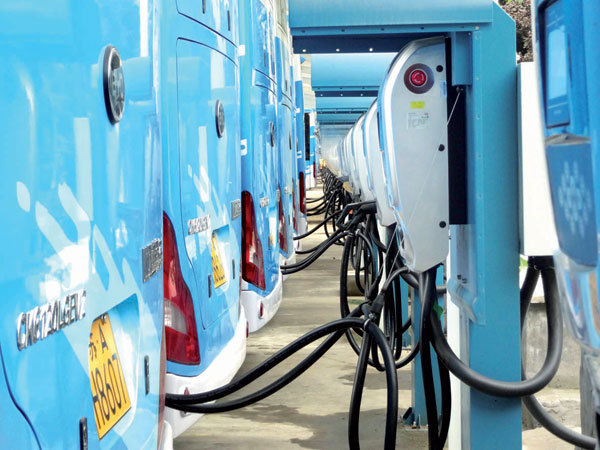 Electric buses charged at a station in Nanjing, Jiangsu province. The Nanjing Public Transport Corp ordered more than 900 fully electric buses in May.[Photo provided to China Daily]
At least 30 percent of public transport and logistics vehicles in cities with well-developed infrastructure should be new-energy cars, buses and trucks by 2020, according to a notice released by China's Ministry of Transport earlier this month.
The notice calls for new energy to power 200,000 buses, 50,000 taxis and 50,000 delivery vehicles by the deadline.
The vehicles include pure electrics, plug-in hybrids and fuel-cell vehicles.
The notice is the country's latest in a wave of fiscal and policy support for green vehicles in recent years.
Sales of new-energy vehicles in August reached some 5,000, nearly 11 times the same period last year, according to data from the Ministry of Industry and Information Technology. Production of new-energy vehicles in the first eight months totaled 31,137 units, up 32 percent.
Experts said the country's major urban areas offer the best opportunities for rollout of electric buses and other green vehicles-even more so if the city suffers from serious air pollution.
According to Lin Cheng, deputy director of the National Engineering Laboratory for Electric Vehicles at the Beijing Institute of Technology, Beijing's public transport system began to use new-energy vehicles in 2000.
Today more than 200 electric buses serve routes in the city, with about 100 more to follow by the end of the year, said Lin.
Beijing Public Transport Co has just signed a deal with Beiqi Foton for 60 more pure-electric buses, according to d1ev.com, a website for the new-energy vehicle industry.
Lin noted that an advanced technological chain for production of electric buses has now formed in the city.
According to the Beijing Municipal Science and Technology Commission, nine of the city's 10 suburban districts are now served by 1,600 electric taxis. By 2017, the total is projected to reach 5,000.
According to the commission, the Beijing government will complete construction of 1,000 fast-charging stations this year covering areas inside the Fifth Ring Road.
Niu Jinming, director of the Beijing New-Energy Vehicle Promotion Center, told the 21st Century Business Herald that the logistics industry is also going green. He said that electric vehicles will be mainly used for postal mail and express delivery for e-commerce sales.
In addition to Beijing, a range of other cities across the country also have electric vehicle initiatives underway.
In Qingdao, the well-known coastal city in Shandong province, 400 pure electric buses just hit the road, bringing the total to 580.
The government of Yangzhou, Jiangsu province has purchased 314 plug-in hybrid buses scheduled to begin operation soon. Its transport blueprint calls for completion of construction on 80 public electric charging poles by the end of the year.
Challenges ahead
Despite growth in sales and governmental moves to drive wider use, analysts said there are still big challenges ahead.
Development of a full-fledged electric transport network, especially in large cities like Beijing, faces a range of difficulties, said industry experts.
They noted that electric taxi drivers in suburban Beijing would need about five hours to charge their vehicles, so they use an existing fast-charging system that only takes one and half hours but damages the battery. A fully charged electric can run 160 to 200 km, so taxi drivers have to recharge in the middle of the day.
Lin from the National Engineering Laboratory for Electric Vehicles said that there are electric taxis on the market that can run more than 300 km, but they cost more and have to carry heavier batteries.
But the biggest problem in promoting new-energy vehicles in the public sector is how to make State-controlled entities adjust and embrace a new system, said Lin.
"They are not as flexible as a commercial company. For them, to use new-energy vehicles and adopt new operational and managing systems might be too much bother."
Governmental policies and support are necessary in those sectors as well as for business and individual owners, said Lin.