Move to boost court transparency
China Daily, October 13, 2014

Adjust font size:

Details of more than 3,200 court spokesmen and spokeswomen, including their names, office addresses and phone numbers, have been published online in an effort to improve judicial transparency.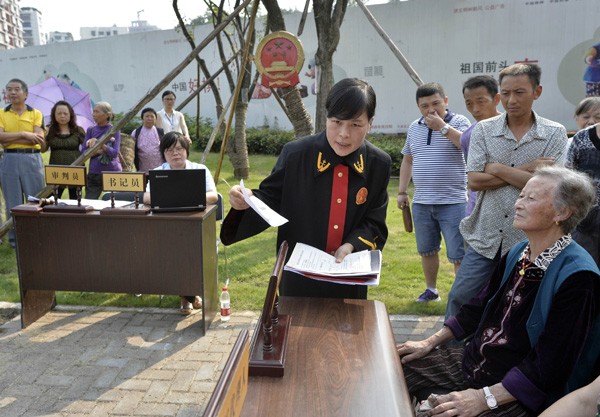 A judge from Chongqing Jiangbei District People's Court explains legal documents to a defendant as the court holds a trial by the roadside in a move to increase convenience for the public and provide education on the judicial process.
The information has been placed on the website of the country's top court. The initiative is intended to give the public a point of contact and a way of checking legal points and obtaining details about important legal issues.
By the end of September, details of 3,281 spokesmen and spokeswomen, including 2,784 from grassroots courts, had been made public, according to the Supreme People's Court.
Li Yuxian, a spokesman for Hunan Provincial High People's Court, said his role is to broadcast information about cases and procedures in a credible manner.
Fan Jun, spokesman, for Beijing Haidian District People's Court, said it is essential that the courts tell the public about their work.
"We should also provide timely information about important cases," he added. "It's our duty to spread information about the law."
Fan hosted a high-profile news conference about the Li Tianyi case in 2013.
Li, 18, the son of Li Shuangjiang, a general and well-known military singer, was sentenced to 10 years for raping a woman after spending a night drinking.
The disclosure of information about spokesmen is a further step in the efforts of the Supreme People's Court to achieve greater transparency, following the introduction of news conferences in 2009 and the publication of details of cases that are representative of its work.
Sun Jungong, the court's spokesman, said that improving transparency was seen as a major task "because the more openly we show our work to the public, the more justice residents will receive".
The court has held 97 news conferences and published details of 393 typical cases and 48 judicial documents, Sun said.
"Our news conferences and documents focus on important current legal issues and cases with nationwide significance for society. For example, we released the latest information relating to drugs on the International Day Against Drug Abuse."
"Since 2013, judicial transparency has been improved at every Chinese court via multimedia platforms such as micro blogs and instant messaging tools," he said. "Out of 2,995 courts, 2,866 have opened micro-blogging accounts."
The top court's Sina Weibo account has attracted more than 150 million followers. It is used to broadcast information about trials, provide analysis of judicial interpretations and give details of individuals who refuse to comply with court findings.
Judgments by courts in 17 provinces and municipalities have been posted on the Internet.
Zhou Qiang, the top court's president, said: "We promise that more judgments from other areas, including the Tibet autonomous region, will also be disclosed.
He added: "Although we've released information online about people who do not pay debts in line with court verdicts, and prevented them from flying abroad and using credit cards, it's still not enough.
"We will punish some of them by the end of this month."
Commentator Bai Yansong praised the general level of judicial transparency, but said the frequency and quality of news conferences held by grassroots courts must be improved.
Hu Yong, a media professor at Peking University, said grassroots courts should learn how to interact with the public online instead of only posting professional documents.
"Evidence should be made public as well as details of trials, and efforts to catch corrupt judicial officers must be improved," Hu added.