Stronger blow against smog
China Daily, October 13, 2014

Adjust font size:

Beijing is veiled in the worst smog in about six months, and the heavily polluted haze is expected to continue shrouding the capital and its surrounding areas in Hebei province and Tianjin. The air pollution control authorities updated its yellow warning to orange by the evening and advised people to take protective measures.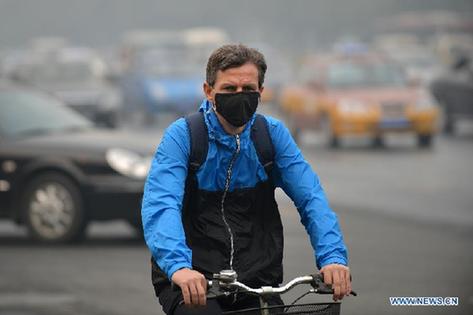 A foreigner wearing mask rides on smog-shrouded road in Beijing, capital of China, Oct. 10, 2014. [Photo/Xinhua]
The city mayor's vow at this moment to make greater efforts for cleaner air in the capital, though made at a meeting for the preparations of the 2014 Asia-Pacific Economic Cooperation Economic Leaders' Week, can also be considered as a response to this health hazard.
It is not the first time the capital's leader has made such a pledge. And it is indeed not easy for a city with a population of nearly 30 million and more than 5 million cars to keep its air clean.
The commitment to greater efforts to improve the air quality is no doubt genuine, but people should not anticipate a sudden turn for the better because the city government has limited measures at its disposal. It can hardly reduce the total population of the city, nor can it decrease the density of high buildings, which have prevented the dispersing of dirty air from the city. It cannot do much to reduce the industrial pollution produced by the surrounding regions and cities, which also contribute to Beijing's air pollution.
But the Beijing government must do what it can.
The capital city has improved its pollution law enforcement and in the first eight months, more than 1,000 breaches of the law were fined a total of 23 million yuan ($3.7 million).
Yet that is still far from enough.
If Beijing continues to expand, the mayor's promises will turn out to be empty words, as more buildings in a larger urban space will make it even more difficult for floating particles and the exhaust from cars to disperse.
And better urban management can reduce the frequent digging up of roads or sidewalks for laying or repairing this or that kind of pipeline, which contributes a lot of dust to the city's already dirty air.
There are more things the city government can do to reduce the city's own contribution to the smog. And doing these requires that urban management and environment officials fulfill their duties to the best of their caliber.