Students returning from overseas have trouble finding jobs
china.org.cn / chinagate.cn by Wu Jin, October 13, 2014

Adjust font size: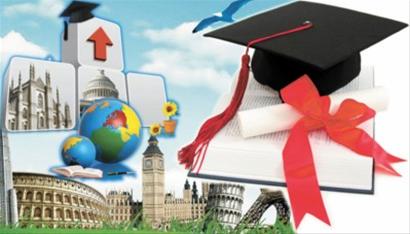 Zhang, who graduated from a university in the United States, was unable to find a job in Shanghai. He tried several times, but was disappointed at each result.
Zhang is not an exception. A great number of his contemporaries in search of high-salary jobs are experiencing similar miseries.
Overseas study in developed countries costs about 200,000 yuan (US$32,606) per student per year, so it seems impossible for returning students to find entry-level jobs with salaries that merely cover their daily necessities. Most of them think they need to find highly-paid positions, usually paying around 10,000 yuan a month, in which their overseas knowledge is applicable. However, those are nothing more than hopes.
A human resources department supervisor named Zhang who works for a private company in Tianjin said, "We treat local and overseas graduates equally as long as their abilities are satisfactory."
But less competent overseas students often demand more from jobs, either in terms of pay or environment.
According to a professional manager named Li, overseas students are rather impractical when seeking jobs in the domestic market.
"The high educational costs for overseas students make 3,000-yuan jobs unattractive to them," Li said.
"Even if they find jobs," Li continues, "their critical way of comparing everything in the domestic working environment with the western ones they left behind make them rather unpopular among their colleagues."
About 2.64 million students in China chose to study abroad from 1978 to 2012, and 90 percent of those students' education costs were self-paid. From 2007 to 2011, the number of overseas students maintained double-digit growth above 20 percent each year. In the past five years, the number of students returning from overseas reached 800,000 – triple the number of returning students 30 years ago.
According to Liu, a consultant at a studying abroad agency, students who pursue overseas studies usually do so for one of two reasons – to receive a higher-quality education or to gloss over deficiencies in their studies. Outstanding students with super high marks on TOEFL or similar foreign language exams can significantly add to their professional knowledge when studying in top-level universities abroad. But those who are not very good at academic studies will find overseas diplomas useless in today's domestic job market, Liu explained.
"Employers care more about whether you are competent in your job, rather than your overseas experience," said Xiao Yu, who returned from a university in New Zealand and is working at a consulting company for less than 5,000-yuan a month.
Numerous failures and disappointments in the job market have taught returned students to be realistic about the future. Shen Fu, a 26-year-old returnee, is now a department manager at a five-star hotel, but her job hunt didn't start off smoothly.
One of the positions she interviewed for was hotel manager at a chain hotel, and Shen was the only candidate with an overseas educational background. She was confident she would get the job. But contrary to her expectations, she was rejected after interviews, because the company's HR department told her many candidates who applied for the managerial level post started working as doormen or receptionists, and therefore had richer experience and more competence in the actual operation of hotels. According to HR, the hotel would not offer a job to Shen unless she agreed to first work for them as a receptionist. Shen declined the offer. However, she soon found that every hotel which interviewed her had similar conditions. She eventually agreed, and started from the very beginning.
"We need to adjust our expectations and start from the bottom level. The overseas experience which shaped our independence and openness, can eventually be valued as long as we are responsible and scrupulous in our jobs," Shen said.