No dancing as some obstacles in the way
Xinhua, October 11, 2014

Adjust font size:

A forest of devices designed to protect parking places has sprung up on an open space in northeast China's Jilin Province in a bid to stop unruly elders from dancing the night away.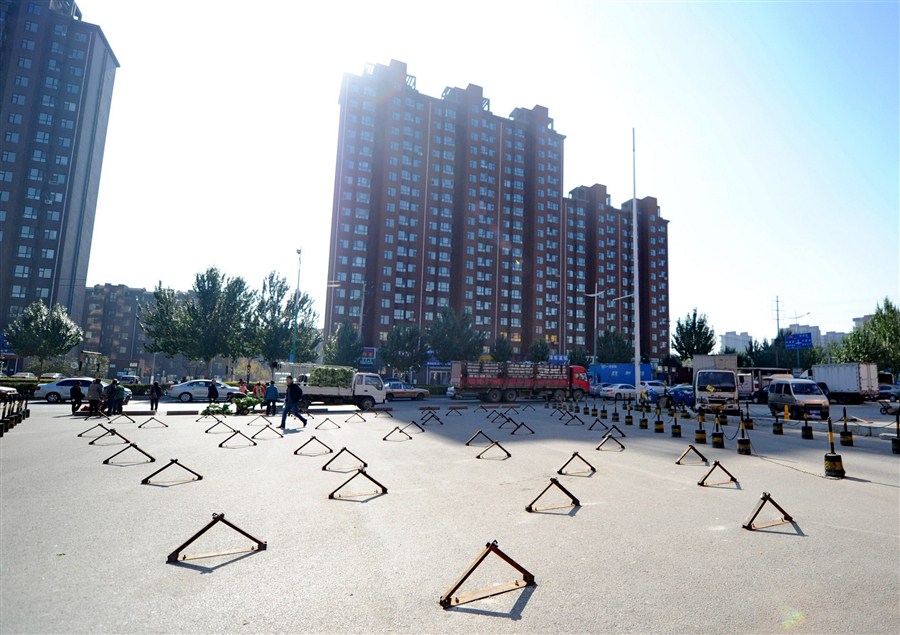 Parking space locks cover open space in front of a community in Changchun, a city in northeast China's Jilin Province. Long plagued by the noise of the "dancing squad" at the square, residents in the community have installed the locks in a bid for a more peaceful existence. — Xinhua
The 50 anti-parking locks have been strewn almost randomly across ground in front of the Yongchangmeiyu Community in Changchun, the provincial capital.
Chinese square dancing is very popular with the elderly and dances can be launched anywhere, anytime. All you need is a ghetto blaster and some friends, though passersby often stop and join in.
Groups of dancing elderly women are a common site at dusk all over China. Aging flashmobs take over subway exits, parking lots, shopping malls and even train carriages or the expressway. Yongchangmeiyu residents say the loudspeakers disturb their lives, but the dancers refuse to turn down the volume or find a new place.
"They dance from 6pm to 10pm every night. The music is so loud that we can still hear it even when we close our windows," said Qu, a community resident, adding that he had failed to get a good night's sleep for the past year.
Qu said calling the police was useless. The noise is so bad some people who could not bear it had sold up and left.
Conflicts caused by dancing have caught plenty of people's attention in recent years.
A man in Beijing's Changping District allegedly fired a shotgun in the air and unleashed three Tibetan mastiffs to scare away a group of women whose dancing annoyed him. The man was arrested, a newspaper reported last October.
According to the Ministry of Civil Affairs, people aged 60 and over account for around 15 percent of China's population, higher than the United Nations 10 percent threshold for an "aging country."
In an urbanizing China, it is not easy for so many retirees to find entertainment venues without affecting others.
"Dancing is good for you, of course. If they would shorten the time and turn down the volume, most people in the neighborhood would accept it," said Li, another resident.
Many cities have already introduced regulations to allow dancing for a limited time in non-residential areas and at a proper volume.