Lack of doctors hampers reform
China Daily, October 8, 2014

Adjust font size: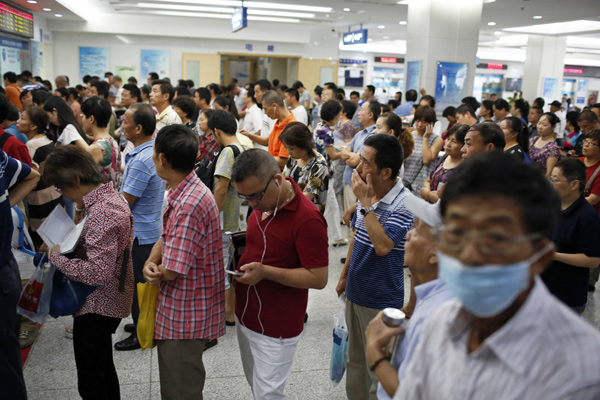 People queue at a hospital in Shanghai, Sept 2, 2014. [Photo/Agencies]
Up-and-coming private hospitals in China's overburdened public healthcare system are trying to cure a shortage of doctors, which could dent the country's reform drive just as private investors are getting interested.
The healthcare sector is set to more than double by the end of the decade to $600 billion, according to consultancy firm Bain & Co.
Part of the shortage problem is that, across most of China, doctors need permission from the State-owned hospitals where they are employed before they can accept work in the private sector.
And many public hospitals don't want to let their best doctors go. So they dig in their heels.
"Some government-owned hospitals are hampering doctors somewhat from going outside," said Charles Elcan, president of Chinaco Healthcare Corp, whose 500-bed hospital in Cixi, Zhejiang province, admitted its first patient in July.
"Some are very much open and support it, and some of them don't," he said. "It's an ongoing challenge."
The Cixi hospital, a joint venture with the local government, is operating at just a fifth of its capacity for inpatients and is looking to recruit more doctors. CHC has invested close to 1 billion yuan ($163 million) in the project and is eyeing other hospitals for acquisition and development.
Privatization is a key plank in the push to revamp a national healthcare system blighted by crowded hospitals and simmering tensions between patients and medical staff.
China wants to raise the number of private hospital beds to one-fifth of the total by next year.
Reforms have attracted local and overseas investors looking to take a slice of China's healthcare revenue. McKinsey & Co expects total healthcare spending, including drugs and medical devices, to hit $1 trillion by 2020.
Despite widespread dissatisfaction with public hospitals, one challenge for private institutions - even those boasting world-class equipment and sparkling decor - is that some patients are still dubious about the quality and affordability of private care.
"Private hospitals are expensive, and you often can't claim reimbursement from national insurance. Plus, I trust the level of medical care at public hospitals more," said Cai Jiejing, a 27-year-old researcher in Shanghai.
As a result, while almost half of China's 24,700 hospitals are private, most healthcare is still delivered by public institutions, with some 84 percent of inpatients flowing through public facilities, according to a Deutsche Bank report in June.
Government drive
The central government wants to open the private hospital sector as a burgeoning middle class, aging society and environmental pollution fuel demand for more and better healthcare.
Over the past five years, it has expanded national health insurance coverage, encouraged greater private investment in the sector and sought to control drug costs.
It has also lowered the threshold for foreign ownership of hospitals. In August, it loosened rules to allow foreign investors to wholly own hospitals in seven cities and provinces.
Public hospital leaders, however, are often reluctant to share their best doctors, let alone watch them leave. Private rivals have to pay a premium to bring in star-quality names, lure doctors from abroad or opt for younger doctors seeking a career boost.
Only in August did Beijing become the first municipality to let doctors work in more than one place without permission from their boss.
Part of the problem, doctors said, is that public hospitals are short-staffed. China has 1.4 physicians per 1,000 people, compared with 2.4 in the United States and 2.8 in the United Kingdom, according to the World Health Organization. The number of doctors per 1,000 patients fell 26 percent in public hospitals and 16 percent in private hospitals between 2008 and 2012, according to Deutsche Bank.
Doctors' preferences
The difficulties in attracting Chinese doctors to the private sector go beyond government policy.
Zhu Yan, who left a good job at the prestigious Peking Union Medical College Hospital to start his own clinic in Shenzhen, ticked off a list of issues that prevent more doctors from working in private hospitals.
Chinese doctors prefer the security and prestige of State hospitals, Zhu said. Plus, private hospitals want to hire older, more experienced doctors, but it's mostly younger doctors who are motivated to move.
Public hospitals haven't figured out how to pay physicians who divide their time between the private and public sectors, and public hospitals are already at full capacity and don't want to risk losing any doctors.