ChemChina gets e-commerce boost
China Daily, September 30, 2014

Adjust font size: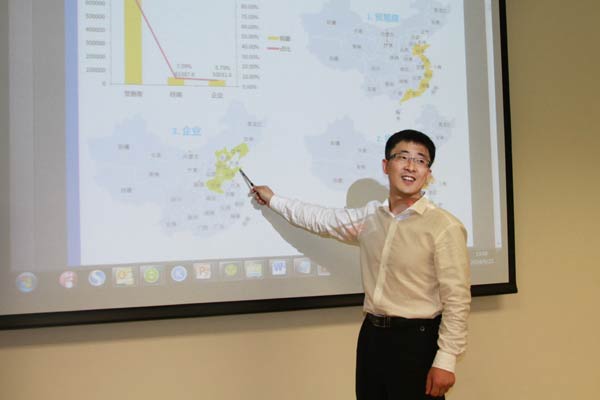 Guo Yanfei, chief commercial officer at ChemChina Petrochemical Co, shares insights on e-commerce with his colleagues.
Professional buyers now have online access to chemical products from China National Chemical Corp and its subsidiaries after the industrial giant launched a foray into e-commerce at the beginning of the year.
A top priority and the latest innovation, the initiative aims to help the company's marketing transformation and tackle overcapacity in the chemical industry, said Ren Jianxin, president of the company also known as ChemChina.
Liu Yawen, chief commercial officer, or CCO, for e-commerce at ChemChina said "the first move was to build dedicated e-commerce sales teams".
"People with bachelor's degree or higher and under the age of 40 are eligible to become leading members no matter how long they have worked here. This is not commonly seen in large State-owned enterprises."
The headquarters and its nearly 100 subsidiaries have all built teams, which have a combined staff of 600, including 104 CCOs. Those with master's degrees or above account for a large proportion.
"At the very start, some of our senior managers did not know how to carry out the project and some even thought it was impractical", Liu said.
So Liu invited several well-established Chinese e-commerce companies to outline their business structures, operational procedures and the services they can provide to meet ChemChina's demands.
She also invited two professors from Tsinghua University to give a four-day lecture covering development trends and current applications of Internet marketing, as well as practical case analyses.
As well, Liu and other senior officers at the headquarters set up a performance evaluation system and a mechanism of awards and penalties for the e-commerce employees.
She also created an online group on WeChat, the dominant mobile social network in China, to include all CCOs, who are required to report their daily e-commerce business performance.
"What I want is a competing environment to push them to learn and make progress." Liu said.
Some research institutes innovated to sell their testing services online and meet potential customers.
Liu and her team also made a market survey to understand customer concerns about the new business model such as payment procedures, logistics and transportation safety.
Big challenge
"Logistics is a still big challenge for a chemical company to carry out business-to-business operations, especially when safety is considered," said Teng Yuanfang, chief information officer of Chem-China Petrochemical Co.
"ChemChina always puts health, safety and the environment as top priorities. We never compromise on these issues for online or offline deals. We offer two options in this regard - we either use certified logistics companies to ship goods to customers or customers can take delivery of the goods on their own," Teng said.
After nearly a year, the company's efforts began to pay off.
From March to September, more than 400 product varieties and services from ChemChina's subsidiaries have been provided online, generating combined sales revenue of 8.5 billion yuan ($1.38 billion), some 5 percent of the company's total income during the period, and realized the annual goal ahead of schedule.
About 65 products were provided in commodity exchanges such as the Bohai Commodity Exchange in Tianjin and the Guangdong Plastics Exchange.
And all products can be found in famous online shopping portals, including alibaba.com, Hc360.com and Tmall.
"Now we sell products mainly through cooperation with other e-commerce companies, but ChemChina has the vision to build the largest e-commerce platform in China covering almost the entire value chain of the chemical industry," Liu said.
The subsidiaries also found 1,500 new Chinese and overseas clients online and opened 69 public accounts on WeChat, some of which can access their online stores.
The largest contract was worth over 5 million yuan with a customer from Angola who ordered 48 container transportation vehicles from Xi'an Lishan Automobile Factory.
China Bluestar Shenyang Chemical sold its chemical products through online auctions.
"E-commerce marketing can solve many existing problems such as enhancing transparency in management, lowering costs and allowing the company to control the first-hand supply and demand information," Liu said.
The company's next move is to hire more talented people and together with their e-commerce partners to find solutions to the problems the company discovered so far to improve its operation.
"The nature of internet is not so much about its thinking as its powerful information communication and information processing technology, which changes social communication and blurs organizational boundaries of enterprises with flatter organization and more efficient innovation," said ChemChina President Ren.