Scotland votes 'Yes' to stay in UK
china.org.cn / chinagate.cn, September 19, 2014

Adjust font size: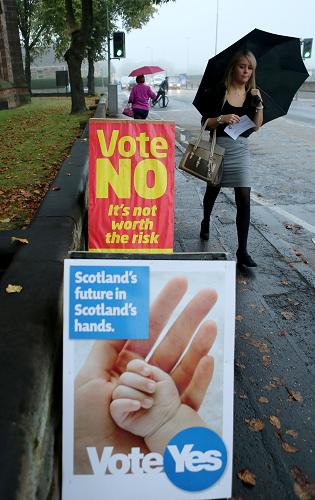 A woman came to a polling station for vote in Edinburgh on Sept. 18, 2014. The referendum result shows that 55% scots have voted "no" to independence.[Xinhua photo]
Scots vote to stay in the United Kingdom with the "No" side having an unassailable lead of 1,877,252 votes after 30 out of the 32 council areas have declared.
 The winning total needed was 1,852,828. Nationally, the margin of victory is about 55% to 45%.
This margin of victory is some three points greater than that anticipated by the final opinion polls.
The precise and final result of the referendum may come late on Friday, due to the volume of people voting at about 4.29 million.
Official figures showed that about 97 percent of those eligible to vote in Scotland signed up to vote in the first Scottish independence referendum in Britain's history. This is also the biggest poll in Scotland's history.