British girl becomes Chengguan in Zhuzhou
CRI, September 18, 2014

Adjust font size:

Pedestrians in Zhuzhou city, Hunan Province may have noticed a new urban management supervisor working at a cross road recently.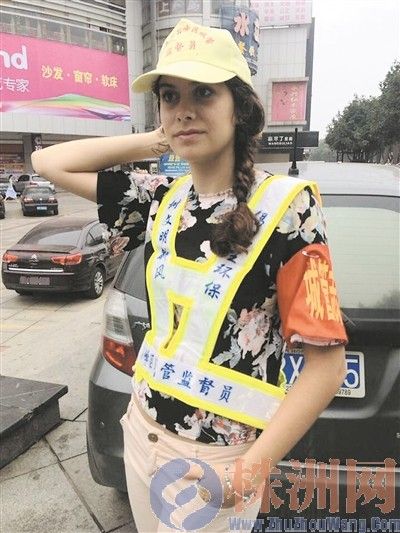 The British urban mangment supervisor in Zhuzhou, Hunan Province. [Photo: zhuzhouwang.com]
Just like other urban management supervisors, she wears a yellow hat and a reflective vest, waving a small flag to direct pedestrians to cross the street. However, her similarities to persons ordinarily found in this position stop there.
Her name is Leah, a 21 year old British recent college graduate. One month ago, Leah came to China with her friend and taught English in a foreign language school in Zhuzhou. They then decided to try their hands at the job of urban management supervisors.
She believes that the work of urban management officers is very significant. They can provide instant assistance to citizens by patrolling the streets, and also endeavor to improve city life in general.
Although her Chinese proficiency is limited, that does not dissuade her from her duties, such as ensuring that jaywalkers observe the rules.