Experts call for policies on rare diseases
China Daily, September 15, 2014

Adjust font size:

Experts at an international seminar held over the weekend at the Children's Hospital of Fudan University called for legislation and related policies on the prevention and treatment of rare diseases.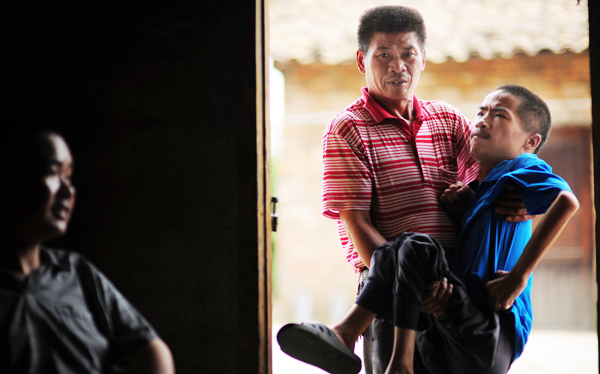 Liu Yuliang, a patient with amyotrophic lateral sclerosis, also known as Lou Gehrig's disease, is helped by his father as he enters his home in Ganzhou, Jiangxi province, on Wednesday. The disease attacks nerve cells and ultimately causes total paralysis. The number of ALS patients in China is estimated at over 100,000. Chen Dichang / for China Daily
It is estimated that more than 10 million people in China have rare diseases.
A rare disease, also known as an orphan disease, is any disease that affects between 0.65 and 1 percent of the population. About 80 percent of rare diseases are genetic, and many appear early in life.
"Despite the huge number of cases, the related work in China such as research, regulations and social support are only developing slowly," said Li Dingguo, chairman of the rare disease branch of the Shanghai Medical Association.
"Related regulations should be created to help provide better support to patients with rare diseases and their families," Li said at the international seminar at the Children's Hospital on Duchenne Muscular Dystrophy.
DMD is a fatal rare disease that eventually leads to heart failure due to muscular paralysis. About 1 in 3,500 people have the disease, and China is one of the countries with the highest numbers of DMD patients.
In 2011, the Children's Hospital of Fudan University established a pathologic diagnosis lab and specialized outpatients service for DMD. It also carried out a series of activities to support DMD patients and their families and to educate the public to prevent the disease.
"The prevention of rare diseases is a comprehensive work, and requires the work of various departments, such as health, medical insurance and civil affairs. In this regard, an integrated body should be established to head up the project on rare diseases," Li said.
Some areas in China, including Beijing, Shanghai, Shandong and Guangdong province, have already started research work and established academic platforms for rare diseases.
"But this is not enough. A national-level academic platform should be set up as well," Li said.
"The prevention work for rare diseases will be an important part of the legislation. Besides that, there should be 'green channels' for patients to have access to drugs," said Lian Yuqiang, an associate professor at the East China University of Political Science and Law, who has been working on legislation for rare diseases for many years.
A green channel is a fast track for a drug from outside China to obtain approval, according to Lian.
Some patients with rare diseases face poor drug supplies because some drugs are not allowed to enter China due to restrictions.
"Most of the drugs are expensive, and are a huge financial burden for patients and their families. The government should also work to bring the drugs under medical insurance coverage when they are introduced into China," Lian said.
Globally, there are about 5,000 to 6,000 rare diseases, such as leukemia, albinism, Pompe disease, Gaucher disease and amyotrophic lateral sclerosis. Most rare diseases do not have effective treatment methods.