Helping them breathing
China Daily, September 12, 2014

Adjust font size: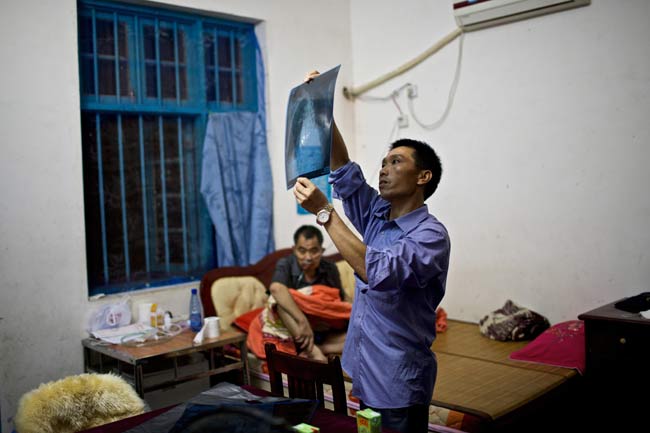 Xu Xinsheng, a patient of pneumoconiosis in Leiyang of Hunan province, examines lung scans of Xu Zhihui, another sufferer of the disease, on Aug 23, 2013. Xu Zhihui developed the lung disease after working the pneumatic drill in a factory in Shenzhen, Guangdong province. PHOTOS BY ZHOU GANGFENG / FOR CHINA DAILY
Wang Mingsheng feels like he is suffocating all the time. He kneels several times a day, giddy and gasping for air.
"Every breath tortures me," Wang said. "I would've killed myself long ago if I didn't have a son."
Wang, 34, lives in Xiangyang village of Zhen'an county in Shaanxi province. He was diagnosed in 2004 with pneumoconiosis, which is caused by inhaling large amounts of dust.
Wang contracted the lung disease after working in a gold mine together with his fellow villagers. Sixty out of the village's 200 families have members diagnosed with the disease. More than 30 people have died.
Wang recalled that when he drilled holes for hours every day in the gold mine, no protective masks were provided to him, nor were dust suppression measures taken.
"We could only see each other's cap-lamp vaguely when we were working, even if we stood just 1 meter away," Wang said.
"My nostrils were always filled with dust after a day's work."
Wang suffers from third-stage pneumoconiosis, which has no effective treatment and cannot be cured. He used to weigh 74 kilograms but has lost one-third of his body weight since he was diagnosed with the disease.
Among the six members of Wang's family, only two are healthy - his son and his younger brother's son. Wang's father and younger brother also contracted the lung disease. His mother was diagnosed with colon cancer, and both brothers' wives have left the family.
"I cannot imagine the future," Wang said. "I have no future."
There are at least 6 million patients like Wang Mingsheng in the country, said Wang Keqin, who is the founder of Love Save Pneumoconiosis. The NGO, considered the largest of its kind in China, helps migrant workers like Wang Mingsheng who suffer from the occupational disease.
"Pneumoconiosis is caused by inhaling large amounts of dust, which can result in the compaction and fibrosis of the lungs after it enters the lung cells," Wang Keqin said.
"Most patients diagnosed with third-stage pneumoconiosis cannot lie on the bed to sleep, because less than one-quarter of their lungs, which can still provide them with limited oxygen, will stop working if they lie down.
"About 22 percent of the patients will die. Many of them die in a kneeling position, in pain," Wang said.
"Every hour in China, 1.5 patients diagnosed with black lung disease, caused by coal dust, suffocate to death. Most of them are aged between 30 and 40."
Wang Liangxu, a member of the thoracic department under the Chinese Medical Doctor Association, said that black lung patients always have difficulty breathing.
"If complications develop following their breathing difficulty, the patients will experience heart and lung failure which is usually the cause of their death," Wang said.
Pneumoconiosis is divided into three distinct stages. Patients suffering from the first and second stages can receive lung lavage to ease their symptoms.
But there is no effective treatment for terminal patients in China.
According to Love Save Pneumoconiosis, every year 20,000 people contract the disease in the country.
Statistics from China's National Health and Family Planning Commission showed that in 2013, 26,000 occupational disease cases were reported to the government, among which 87 percent were diagnosed with pneumoconiosis.
Chen Jingyu, an expert of respiratory diseases with Wuxi People's Hospital in East China's Jiangsu province, once told Wang Keqin an astonishing story.
"Some workers who used to work for gold mines left unexpected gifts to their family members after they were cremated. Though their bones had turned into ashes, the traces of gold left in their lungs melted into a whole piece."
"Due to financial problems, many patients who could have received relief from their ailment died before they could get the necessary medical help," Chen said.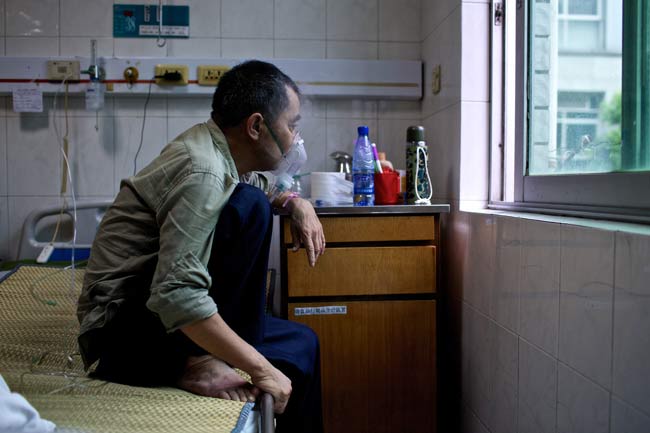 Xu Zhihui developed several other complications including tuberculosis while he was working in the factory. PHOTO BY ZHOU GANGFENG / FOR CHINA DAILY