Campaign seeks 1-minute readings
China Daily, September 5, 2014

Adjust font size: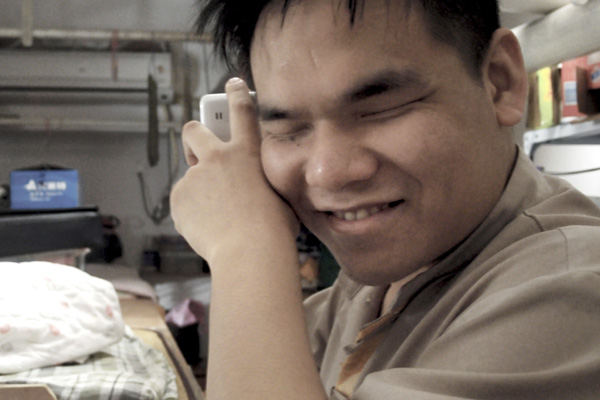 A visually impaired man listens to a book recording on Voice Donor. CHINA DAILY 
WeChat initiative aims to create audiobooks for visually impaired
WeChat users are being asked to give up a minute of their time to help record audiobooks for the blind under an innovative charity campaign launched on the social media platform.
Mei Jian, the organizer of the Voice Donor initiative, said there are 12.63 million visually impaired people in China, but there is a shortage of books and other publications for them.
Volunteers record a short section of a book that takes no more than a minute to read, and the snippets are then edited together to make a complete audiobook that is placed online.
The initiative has attracted support from celebrities such as TV presenter and charity campaigner Yang Lan, who has recorded an excerpt.
"The combination of the one-minute sections read by voice donors enables the visually impaired to shake off dullness and listen to others and the outside world," said Yang.
The Voice Donor operates as a public account on WeChat with channels that enable followers to listen to readings and submit recordings.
They are sent a small passage from a book that they record and upload. The recordings are sorted and placed in the correct order to make a book.
"The complete book is then posted online so the blind and others can listen to it," said Mei.
The involvement of celebrities has attracted thousands of volunteers. More than 14,000 recordings are received every day, with each user supplying an average of five pieces.
A collection of works by the famous contemporary poet Gu Cheng is currently featured on the account, and 656 volunteers contributed excerpts on Wednesday.
The visually impaired in China have limited access to reading material. China Braille Press, the only publisher that produces books for the blind on the mainland, has an annual output of 100,000 books, Xinhua News Agency reported.
Audiobooks are even rarer, and are available only in a few libraries in large cities such as Beijing and Shanghai.
"I am so happy to see an audiobook initiative attracting so much attention, because I know the disappointment of having no books to listen to," said Li Qi, 30, an audio editor from Beijing who has impaired vision.
"I would like to participate in the Voice Donor campaign, not as a listener but as a technician, sorting and cutting recordings to satisfy the demand for books from people like me."
Zheng Xiaojie, secretary-general of the Beijing Hongdandan Education and Culture Exchange Center, said, "This campaign has generated great enthusiasm among the public, showing that society is putting more emphasis on satisfying the needs of people with defective vision."
The center, which is dedicated to improving the quality of life of the visually impaired, produces entire audiobooks read by single volunteers.
"But there are so few volunteers that we can produce only 100 books annually," she said. "Part of the reason is a lack of publicity and promotion.
"We have given Voice Donor some suggestions and hope we can benefit from the campaign."
Social media platforms such as micro blogs and WeChat are playing an increasingly important role in society, and charity groups are using them to attract support and publicity.
"Social media networks have fueled charity campaigns greatly in recent years," said Bei Xiaochao, head of charities at Sina Weibo.
Sina Weibo has hosted more than 13,000 charity campaigns for individuals and organizations over the past two years, raising 230 million yuan ($37.5 million).