Help needed by baby girl who can't grow
Shanghai Daily, September 3, 2014

Adjust font size:

The family of a 13-month-old girl who suffers from an undiagnosed medical problem and has gained just 5 grams since birth has made a desperate appeal for medical and financial assistance.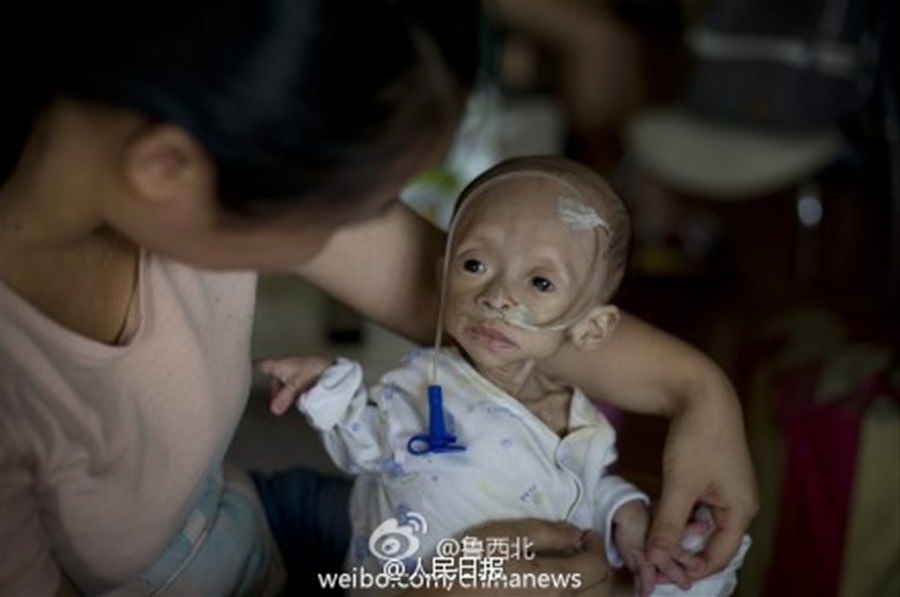 Baby Yuanyuan in the arms of her mother.
Over the past year, Wu Lunjiao and her husband have taken baby Yuanyuan (not her real name) to several hospitals across China, according to Southern Metropolis Daily. But they have yet to find one that can give them a reason for the child's stunted development.
At 13 months, Yuanyuan weighs just 2.9 kilograms.
Last month, Wu took the infant to the Beijing Children's Hospital for a genetic screening test and is awaiting the result. Whatever the outcome, Wu fears it will make little difference, as she and her husband have exhausted their life savings of about 100,000 yuan (US$16,300).
"I'm waiting for the result, but if it turns out to be a genetic problem, we won't have any money to do anything about it," she said.
The real problem is that no one knows exactly what is wrong with Yuanyuan. When she was born, she weighed 2.85kg and measured 50 centimeters in length. Since then, however, she has gained only 5g in weight and 10cm in length, the report said.
The tiny child appears emaciated, with her wrinkled skin looking more like that of an elderly woman than an infant. Unable to sit up, let alone stand or walk, she nevertheless does her best to smile, and can also cry, Shenzhen Evening News reported.
Yuanyuan has real difficulty feeding, her mother said.
"She can nurse a little bit, but she can't swallow," Wu said.
In July, doctors fitted her with a plastic feeding tube that runs through her nose and into her stomach.
"But after just 30 milligrams of milk she gets full and can't digest it," Wu said.
"Her stomach gets distended, so I have to rub her tummy to help it go down. But often she just vomits it all back up," she said.
"I still feed her though, just to make sure she is getting some nutrition."
Despite her sad start to life, Wu said she can see in Yuanyuan's eyes that she has a strong desire to live.
"When she wakes up at night, it's like she is checking to make sure she's still alive," Wu said.
Despite seeing many doctors, none has been able to come up with a satisfactory diagnosis to explain Yuanyuan's condition.
"Even the Peking Union Medical College Hospital, which is regarded as one of the best in China, couldn't explain it," Wu said.
Wu and her husband moved to Shenzhen, south China's Guangdong Province, from Hunan Province 10 years ago. As well as Yuanyuan, they have a 9-year-old son.
The family survives on about 3,000 yuan a month, which is what Wu's husband earns as a truck driver.
As a result, the family is desperate for financial support and medical expertise.
People can make donations via the Weibo account "Fujian Breastfeeding Association," which provides details of Wu's bank account, while Shenzhen Evening News has also set up a donation hotline — 83929999.