Death Toll in School Knife Spree Rises to 4
CRI, September 2, 2014

Adjust font size:

The death toll from a stabbing spree by a student's father has risen to four after a teacher died in hospital on Monday night in central China's Hubei Province.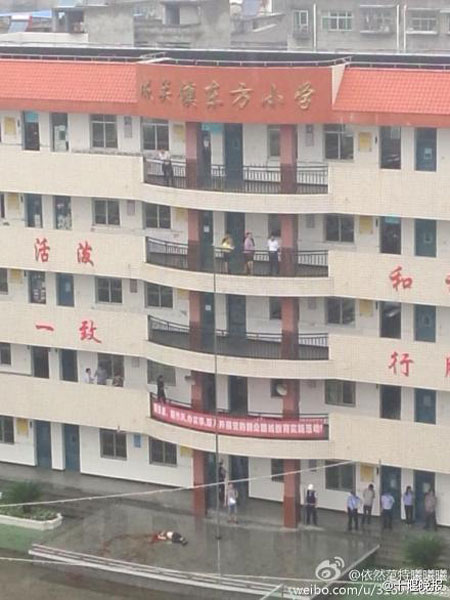 The photo published by a Weibo user on Monday, September 1, 2014, shows the body of the suspect lying in blood on a platform just outside the school building. [Photo: Weibo.com]
The teacher Liu was stabbed in the chest and stomach by Chen Yanfu. She died around 8 p.m., said an official source in Yunxi County.
Chen, 43, allegedly upset that his daughter was not allowed to register at the school, rampaged through classrooms on the fifth floor of the teaching building of Dongfang Primary School, stabbing students and teachers, at around 10:20 a.m. on Monday, the first day of the new semester.
Liu and eight students were rushed to hospitals. Three pupils - two boys and a girl - died on the way; another student was seriously injured in the chest. Four more students are in a stable condition.
Chen jumped to death from the fifth floor after he was tackled by a teacher.
Fu Qingyu, the school's headmaster, said Chen did not say a word after entering classrooms, just pulled out a knife and started stabbing anyone within reach.
According to Fu, Chen took his daughter to the school for registration on Sunday, but a teacher told him she had not completed her summer vacation assignment and asked him to ensure she finish it at home. There was no quarrel between the teacher and Chen on Sunday, he added.
All schools have been urged to tighten security in recent years after a spate of attacks on children. Dongfang had no security check of visitors on Monday.
In March 2010, a man killed eight children outside an elementary school in Fujian Province. Less than two months later, several attacks on children were reported across the country.
In the latest case in July, a cook killed a boy and injured two other children with a knife in a rented apartment in Guangdong Province.