UNEP: Innovative learning to reduce disaster risk
china.org.cn / chinagate.cn, August 28, 2014

Adjust font size:

In the past decade, natural disasters have cost over 1.2 million lives and economic losses have continued to skyrocket. Projections indicate that damages from disasters will climb up to US$400 billion per year and with climate change expected to worsen these impacts, identifying innovative solutions and responses has become an urgent priority.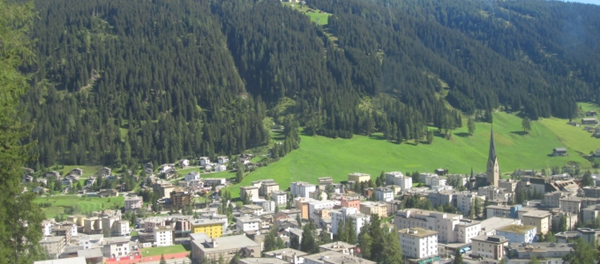 In Davos, Switzerland (pictured above) and other Alpine countries some mountain forests are managed specifically as "protection forests" to prevent avalanches, landslides and rock fall. 
This week at the 5th Annual International Disaster Risk Conference (IDRC), the United Nations Environment Programme (UNEP) unveiled its latest effort to build resilience to this global challenge. UNEP is launching the first-ever Massive Open Online Course (MOOC) focusing on how to minimize disaster risk through "natural" or ecosystem-based solutions.
Ecosystems such as forests, wetlands, and reefs often provide valuable protection against natural hazards like avalanches and flooding. They also supply vital services such as food, fuel, and shelter following a disaster event. Yet limited awareness of the services offered by ecosystems and false perceptions on their effectiveness as a tool for disaster risk reduction is preventing concrete action.
"In order to bring disaster losses under control, we need more skills, scale and speed in our disaster risk reduction efforts. This MOOC improves access at a global scale by enabling people to learn directly from experts and practitioners how to apply ecosystem-based disaster risk reduction and adaptation in their own communities," said Dr. Muralee Thummarukudy, Senior Manager for Disaster Risk Reduction at UNEP.
This MOOC will also broaden awareness on the different tools available beyond concrete or engineered solutions by demonstrating how climate change, disasters, and the environment are linked. It exposes participants to a range of tools for eco-disaster risk reduction and adaptation. With over 20 hours of video lectures, guest lectures from world leaders and real-life case studies, the MOOC targets policymakers and decision-makers, practitioners, experts, and the wider public.
Today, UNEP and the Partnership for Environment and Disaster Risk Reduction (PEDRR) are also hosting an interactive panel discussion on "Bridging disaster risk reduction and climate change adaptation through ecosystems management." The panel aims to demonstrate through field projects how ecosystem-based disaster risk reduction and adaptation are building resilience in communities worldwide.