Torrential rains wrecks havoc in Zhejiang
Xinhua, August 22, 2014

Adjust font size:

Nearly 65,000 people in east China's Zhejiang Province have been evacuated after torrential rains caused floods in some cities, said the provincial flood control and drought relief headquarters on Thursday.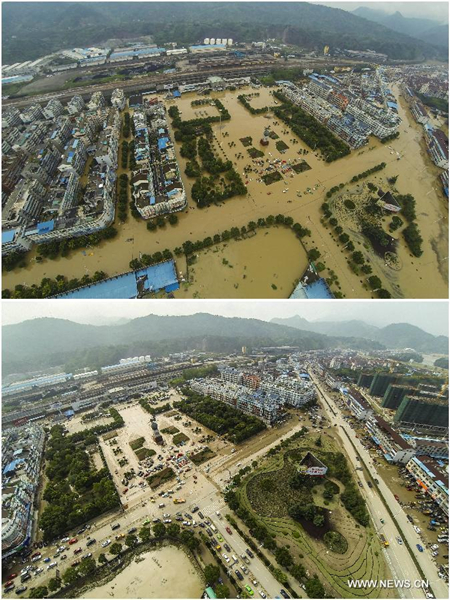 Combo photo taken on Aug. 20, 2014 (up) and Aug. 21, 2014 (bottom) shows different water situation nearby the Lishui Railway Station in in flood-hit Lishui City, east China's Zhejiang Province. [Photo/Xinhua]
Nearly half a million people in the cities of Lishui, Jinhua, Wenzhou and Shaoxing have been affected by persistent downpours since Aug. 8, with the worst-hit Lishui suffering direct economic losses of 1.058 billion yuan, it said.
Statistics from the provincial hydrological bureau showed that the province's average precipitation has reached 204 millimeters over the past fortnight, the highest since 1951 excluding the influence of typhoons.
By Thursday, 853 houses have collapsed, while 26,100 hectares of croplands have been damaged, of which 1,400 hectares of crops were totally destructed. The losses inflicted upon cash crops were estimated at 160 million yuan.
The torrential rains also forced 255 factories and mines to stop their production, destroyed 193 roads, 21 power supply lines, 33 sluices, 72 small reservoirs, 444 irrigation facilities and 13 hydropower stations.
With no more torrential rains forecast in the next three to five days, the floods in local rivers are expected to recede faster, said the headquarters.
Wang Xiaoyang, deputy chief of the flood control and drought relief headquarters of the Lishui City, said that floods from the Oujiang River had submerged approximately 10 square kilometers of the downtown area,including the square in front of the Lishui railway station.
Also destructed were a second-hand car market and a pig-breeding base near the river. No casualties were reported so far, according to the government.
Wang said that the priorities of the flood relief were to guarantee the subsistence of the victims, verify disaster-induced losses, restore infrastructure facilities and prevent the transmission of diseases.