Jackie Chan apologizes for son's drug scandal
China Daily, August 21, 2014

Adjust font size: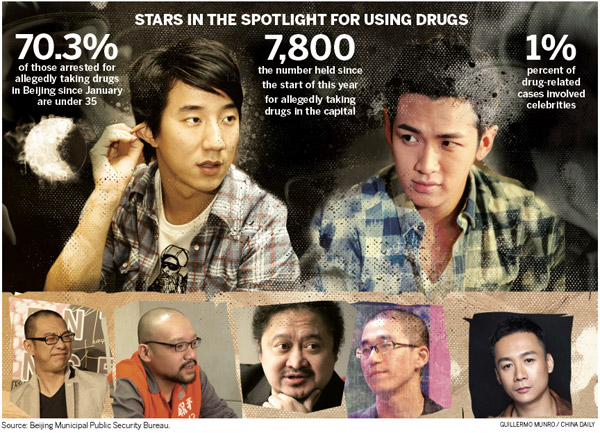 Clockwise from top: Hong Kong actor Jaycee Chan, Taiwan actor Kai Ko, actor Gao Hu, actor Zhang Mo, director Zhang Yuan, singer Li Daimo and scriptwriter Ning Caishen. 
Kung fu movie superstar Jackie Chan apologized publicly on Wednesday evening on Sina Weibo for his son's involvement with drugs.
Screenshot of Jackie Chan's apology on Sina Weibo
"First, I want to thank everyone for their support. For my son, Fang Zuming (Jaycee), to get into such trouble, I'm very angry and astonished. As a public figure, I'm ashamed, as a father, I'm heartbroken, I can't begin to describe his mother's pain. I hope young people will take a lesson from Zuming (Jaycee) and stay away from drugs".
Chan also wrote that his son should shoulder the consequences for his wrong behavior and that he would be there to face the future with him.
"I failed to be a good father and I deserve the blame. I will take the responsibility and apologize to public on behalf of Jaycee!" Chan wrote.
Jackie Chan's apology has generated heated reactions on Sina Weibo, the country's largest twitter-like micro blog service. The apology drew more than 270,000 likes and over 100,000 comments in an hour.
On Monday evening, Jackie Chan's management company made an announcement apologizing for Jaycee Chan's wrong behavior.
The younger Chan, 32, was detained on Monday for hosting others in smoking marijuana at his home in Beijing's Dongcheng district, the municipal police said on its official micro blog. He was reportedly found with more than 100 grams of marijuana in his possession.