Emergency response initiated for drought-hit NE China
Xinhua, August 20, 2014

Adjust font size:

China launched a fourth-level emergency response program on Monday to cope with a drought that has hit Liaoning Province, a government statement said.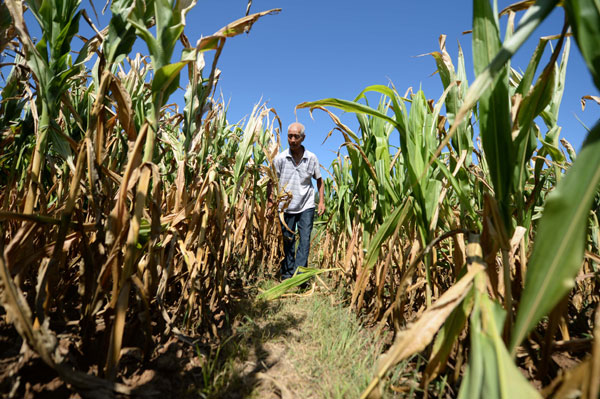 A farmer checks his drought-hit cornfield in Chaoyang city of Liaoning province, Aug 14, 2014. [Photo/Xinhua]
The fourth-level response is the lowest in the country's emergency response system.
According to a statement from the Ministry of Civil Affairs and the National Committee for Disaster Reduction, a working group had been sent to the province to inspect the situation and assist people affected by the drought.
As of 8 am Monday, the lingering drought had affected about 5.46 million people, 1.17 million of whom need assistance. At least 1.42 million hectares of cropland have also been affected.
The drought is the worst in the province in 63 years. Since July, the province has received less precipitation than in any year since meteorological records began in 1951, according to the provincial meteorological bureau.
The bureau said the drought is caused by the weather anomaly known as El Nino, which usually triggers drought in northern China while bringing more rains to southern China.