Can ZMapp save Ebola patients?
china.org.cn / chinagate.cn by Li Jingrong, August 13, 2014

Adjust font size:

International attention has turned to an experimental drug known as ZMapp, developed by San Diego-based Mapp Biopharmaceutical and manufactured by Owensboro, Kentucky-based Kentucky BioProcessing (KBP), after two U.S. medical workers who contracted the deadly virus Ebola while treating patients in Liberia showed some improvement after being treated with the drug.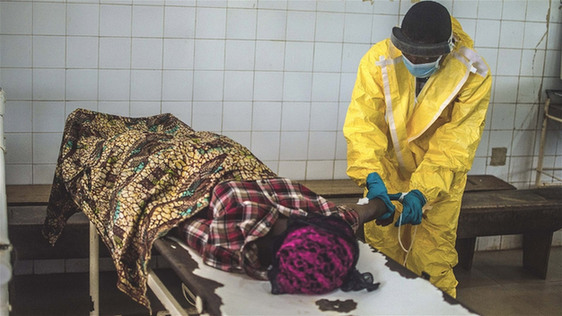 A government health worker at the Kenema Ebola Treatment Centre in Sierra Leone attends to a victim. [IRIN/Tommy Trenchard]
ZMapp researchers and developers
In an interview with China Business News, a scientist from Mapp Pharmaceutical stressed that, although the drug seems to have saved medical workers Nancy Writebol and Kent Brantly, it is still in the experimental stage.
Mapp Biopharmaceutical was founded in 2003 to develop novel pharmaceuticals for the prevention and treatment of infectious diseases. Its founders - Larry Zeitlin and Kevin Whaley – had rarely appeared in public before ZMapp became famous last week.
They said their work status hasn't changed much, because they are only responsible for research and have no involvement in the actual manufacture of the drug.
According to the ZMapp R&D team, the drug had only been tested on eight monkeys before being used to treat the two medical workers. However, experimental results showed a survival rate of 100 percent among the monkeys carrying the Ebola virus that were injected with ZMapp.
Unfortunately, many scientists say it is still too early to tell if the treatment is effective based on the experience of only two patients and eight monkeys.
"Very little of the drug is currently available," the company also warned in a statement on its official website.
ZMapp manufacturer and NIAID
David Howard, spokesman for Kentucky BioProcessing (KBP), said it was working closely with Mapp Biopharmaceutical, various government agencies, and other parties to increase production of ZMapp, Xinhua News Agency reported on Aug. 7. "But this process will take several months," he added.
When asked about the company's current or targeted ZMapp production capacity, he said that this was "proprietary information" that could not be disclosed.
Anthony Fauci, director of the U.S. National Institute of Allergy and Infectious Diseases (NIAID), also said that even small-batch production would need two or three months.
Due to the very small Ebola vaccine market at present, which is not large enough to stimulate large pharmaceutical companies to start vaccine development, and due to the high expense associated with human clinical trials, many U.S. vaccine research and development projects are handled by small scientific teams funded by the government.
Official response and statistics
U.S. President Barack Obama said on Aug. 7 that, even if ZMapp became available, it would still be "premature" to send the experimental drug to West Africa, the region hardest hit by the deadly outbreak,
"I think we've got to let the science guide us. And you know, I don't think all the information is in on whether this drug is helpful," Obama told a press conference at the close of a three-day summit with dozens of African leaders.
"I think it's premature to talk about it because I don't have enough information," he said. "I will continue to seek information with respect to these drugs going forward."
The World Health Organization said on the same day that it would convene a panel of medical ethicists early next week to review the experimental treatment.
The Ebola outbreak, by far the largest in the nearly 40-year history of the disease, has infected 1,779 people and killed 961 this year in four West African countries -- Guinea, Liberia, Nigeria and Sierra Leone -- according to the WHO.