'Ant tribe' grads in Beijing fight their way up
china.org.cn / chinagate.cn by Chen Boyuan, August 13, 2014

Adjust font size:

Beisicun (North Four) Village outside Beijing's North Fifth Ring Road has become a new cluster of inexpensive residences for fresh college graduates, after the Tangjialing Community, a shanty town formerly located in the area, was dismantled in 2010.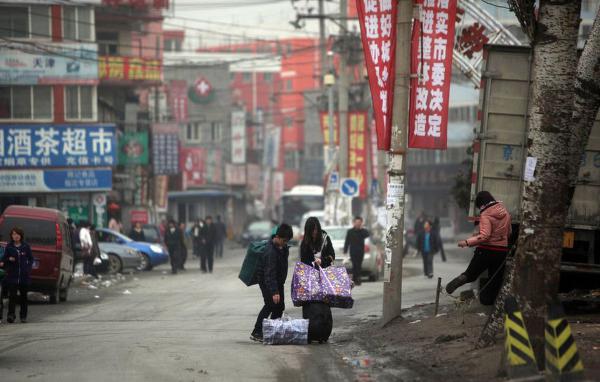 'Ant tribe' grads in Beijing fight their way up 
The village has 6,000 local people and 90,000 temporary residents, half of whom are young people aged between 20 and 35, cramming into some 92,000 rented rooms, according to the police station in the prefecture.
These temporary residents are called the "ant tribe" class, a neologism used to describe a group of low-income university graduates who settle for poverty-level existence in big cities like Beijing. "Ant tribe" graduates hope that, in time, they will find the ideal, well-paid jobs for which they were trained in college.
One fresh college graduate who rents a room said that 60-70 classmates chose to seek a job in Beijing, and a dozen of them are living in Beisicun Village just like him. The low rent, which starts from 260 yuan (US$42) per month for a room, is the primary reason why these graduates are attracted to the area.
In exchange for cheap rents, these people have to form long queues to board subway trains before the time-consuming trip into the city. The queue is usually up to two kilometers long at 7:30 a.m. each day, but the "ant tribe" members just have to accept it.
One staff worker at the Life Science Park Metro Station said the rush hour normally lasts two hours, when around 10,000 people get on the south-bound metro trains to reach the downtown area of the Chinese capital.
At 8:00 a.m. on the morning of July 23, Wang Yucheng, a fresh graduate living here, was about to fetch his lunch pack from a catering service in the same village.
"The cook will prepare my lunch at 8:30, and I will take it to work. It costs 8-10 yuan (US$1.3-1.6) here but almost double as much near my company," he said, explaining how he managed to "save more than 100 yuan (US$16)" each month from eating lunch this way.
Wang's rented room, at Mingxin Apartments in the Beisicun, seems more like a new dormitory to him. After graduating from a university in neighboring Hebei Province, he and another six classmates rented a flat here. Three people shared a smaller room for 500 yuan (US$81) a month, and the other four shared a larger room that costs them 700 yuan (US$114).
Wang's trip to work takes one hour and 20 minutes, during which he has to make two subway transfers before catching four different buses. He thinks it is worthwhile because renting a room near work costs at least 1,500 yuan (US$569) each month. This seemed far too much, since he is only making a little more than 2,000 yuan (US$325) each month during the current trial period, and shall only get 3,500 yuan (US$569) as a full-time employee later.
Living in Beisicun Village as an "ant" can save Wang 1,000 yuan (US$162) each month, some of which this young man regularly sends to his parents to help them with their living costs.
According to locals, 260 yuan (US$42) is enough to rent a windowless room in the village. Apart from affordable rent, university graduates also come here to follow in their older classmates' footsteps.
Ms. Chen is an alumna of Wang's former school. She and another two girls share a room that costs 600 yuan (US$97.5) each month. Chen felt blessed to be the first one of the three to have found a job.
She attributed her good luck to a software training course that she took after graduation. Though the fee was more than 10,000 yuan (US$1,626), equal to her entire four years of college tuition, Chen deemed the investment "worthwhile."