The ups and downs of English in China
china.org.cn / chinagate.cn by Zhang Lulu, August 13, 2014

Adjust font size:

When the Tongwen Guan, or the School of Combined Learning, was established in Beijing in 1862, it marked the beginning of English language education in China. Since then, the language has had its ups and downs in China, witnessing and reflecting the dramatic changes that have taken place in the country over the past 150 years.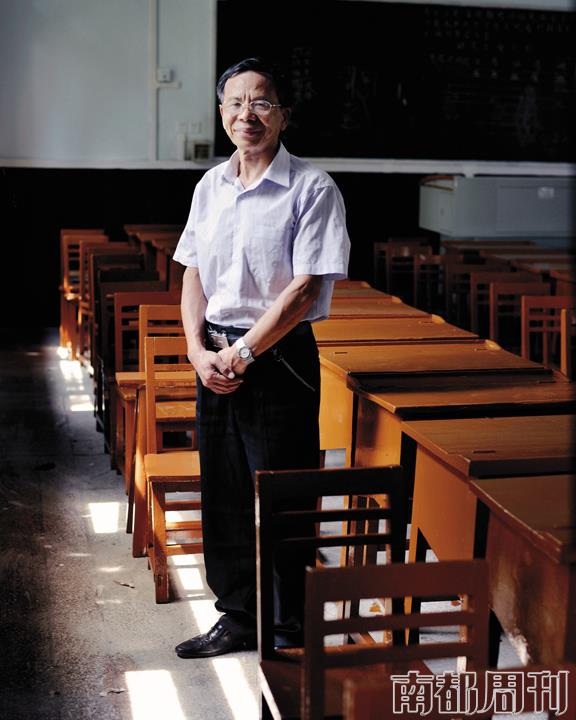 Wen Hongbin
In 1902, the Qing government stipulated that foreign language classes should primarily be focused on English. Twenty years later, the language was elevated to the same status as Chinese in middle schools throughout China.
But the English language fell from grace in China in 1949, when Chairman Mao Zedong wrote the famous article "Goodbye, John Leighton Stuart," in which he celebrated the departure of Stuart -- then the U.S. ambassador to China -- and distanced China from the United States.
The eminent status of the English language was transferred to Russian as China and the Soviet Union developed an amicable relationship. While there were more than 50 English departments in universities and colleges nationwide in 1949, the number plummeted to just nine in 1953.
"Long Live Chairman Mao"
Wen Hongbing, who was enrolled as an English major in 1963 at today's Southwest University in Chongqing, recalled that his textbooks bore some traces of that time.
"There was a famous story describing some peasants' fight against a landlord." he said.
China's Ministry of Education decided that English should be studied as the primary foreign language in 1964, raising the number of students learning English. The number of universities with English departments increased to 74 in 1966, and the number of English teachers increased from 1,015 in 1957 to 4,621 in 1965.
However, most universities called off English classes in the latter half of 1966 when the Cultural Revolution began.
Wen was dispatched to teach at a primary school in Sichuan where there were no textbooks to teach from. The only thing Wen could teach was one slogan after another.
"Long live chairman Mao" was one of the first things that the students learned in English language class in 1971.
When Wen was relocated to a middle school in 1973, an incident happened that shocked the nation's English education circle.
Zhang Yuqin, a student in central China's Henan Province wrote on his English test paper, "I am a Chinese, so there is no need to learn foreign languages. Even though I do not learn ABC [meaning English], I can still serve the country…"
Zhang was criticized by the school and later committed suicide.
But when Jiang Qing, wife of Mao, learned of this incident, the class teacher and principal of the school were sentenced to two years and Zhang was posthumously recognized as a "Revolutionary Minor," a laudatory term at that time.
Thus, the English language was seen as the "language of American imperialism" and as the villain which victimized the "Revolutionary Minor."
Revival and craze
The National College Entrance Examination, similar to the SAT in the U.S., was reinstituted in 1977 after the Cultural Revolution ended. English was listed as a major subject in the nationwide entrance examination in 1984, recovering its erstwhile prominent position.
"There is a huge need for teachers of English." Wen was dispatched to a teacher's school and provided with fast training classes.
He was approached by his relatives and friends to help with their children's English studies. "My weekends were fully packed. The children were sent to me in mornings, afternoons, and sometimes even at nights." Wen recalled.
China's top leader, Deng Xiaoping, made a famous speech in 1992, introducing the concept of the "socialist market economy." The craze for English was fuelled by this change, and an increasing number of training schools and organizations subsequently emerged.
New Oriental, one of the largest educational companies in China today, was established in 1993, attracting tens of thousands of students. Three years later, another famous English training company, "Crazy English," was also established.
According to a survey by the Ministry of Education, there are currently nearly 300 million Chinese taking English training, and more than 50,000 training companies with a total market value of over 30 billion yuan (US$ 4.85 billon) have been established in China.
New crossroads
As the reform and opening process deepened, more and more Chinese went abroad. In 1978, there were only 860 Chinese who went abroad to study; the number snowballed to around 410,000 in 2003.
"The era that I can only teach students 'Long Live Chairman Mao' is gone," Wen said. But he also thinks the English craze has spun out of control, seeing that English is even taught in kindergarten: "I don't think it is necessary."
Because English language proficiency is tied to almost all evaluation systems, some have feared its expansion in China and demanded that the status of the language be reduced.
The Ministry of Education announced last January that English exams for the National College Entrance Examination will be held several times instead of just once. A rumor which developed later asserted that the English test will be eradicated from the all-important entrance exam in 2017.
Some interpret this as a move to remedy the neglect of the Chinese mother tongue after a long period of its invasion by English, while some think the move smacks of nationalist pride.
Though a formal document concerning the English exams has yet to be issued, it will undoubtedly pave the way for more reform of the vital National College Entrance Examination. The changes have already sparked numerous debates, demonstrating the enduring bittersweet relationship between China and the English language.