Outdoor BBQs shut down, fined as ban enforced
China Daily, August 12, 2014

Adjust font size:

Beijing has taken measures to shut down outdoor barbecuing with more than 13,900 cases investigated in the first seven months of the year, as the Chinese capital tries to improve its air quality and environment.

Regulators also issued fines of more than 93,600 yuan ($15,200), said Fan Zhihong, the leader of a law enforcement team under the Beijing Bureau of City Administration and Law Enforcement.

Based on regulations covering air pollution control, all open-air barbecues are illegal, regardless of whether they are for profit or where they are located.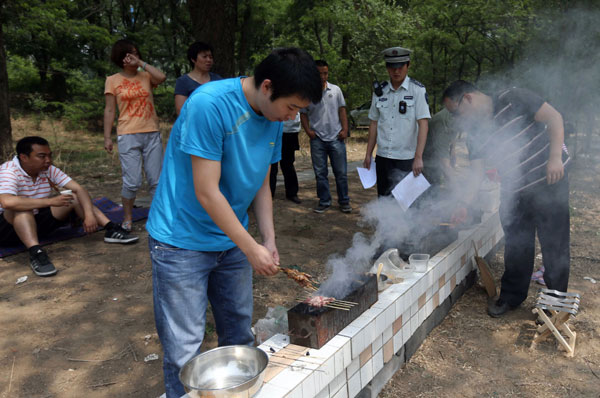 While enjoying the pleasure of a barbecue in Beijing's Tongzhou district, residents turn a blind eye to urban patrol officers' attempts to stop the activity to prevent air pollution. [Hei Ke / For China Daily]
In the past week, more than 10 percent of the complaints received by the bureau's hotline were related to open-air barbecue restaurants, about 50 percent higher than a year ago, the bureau said.
"But the inspection has worked," Fan said, adding that the illegal barbecues are only scattered on small streets.
After the strict inspection in the first seven months, all 135 areas inside the Third Ring Road where the outdoor barbecue eateries are concentrated have been controlled, although illegal grilling still occasionally goes on in 10 of them.
The locations with frequent complaints about outdoor barbecues will have strengthened supervision with cameras in the future. In addition, the district governments also have responsibilities to control the illegal open-air barbecue stores, the bureau said.
However, some residents dislike the ban. Xin Li, a student at Tsinghua University, said the barbecues have been a good choice to spend the weekends and summer nights with friends.
"It's a little tough to ban all the outdoor barbecues even if it's for friends or family," the 27-year-old said, adding that some mobile barbecue booths appear after 9 pm along the streets near the campus.
Zhang Yiqun, a white-collar worker, supports the ban, but said it will have a limited effect, since many of them have moved inside restaurants and still emit pollutants.
Chang Jiwen, deputy director of the Research Institute of Resources and Environmental Policies under the Development Research Center of the State Council, said, "It is good for environmental protection, that's for sure." But he added that the ban's influence is limited to small areas of the city.
On the other hand, restaurants emit the same pollutants as the outdoor barbecues, said Song Guojun, an environmental science professor at Renmin University of China.
In addition, the scattered outdoor barbecue booths may have a limited effect on air pollution, Song said, suggesting that the government impose temporary bans when pollution worsens.