Chinese think tank hires US talent
china.org.cn / chinagate.cn by Zhang Lulu, August 8, 2014

Adjust font size:

Samuel Overholt did not see himself in the job a year ago, but now he has become the first American to work full time for a Chinese think tank, the Chongyang Institute for Financial Studies at Renmin University (RDCY), based in Beijing.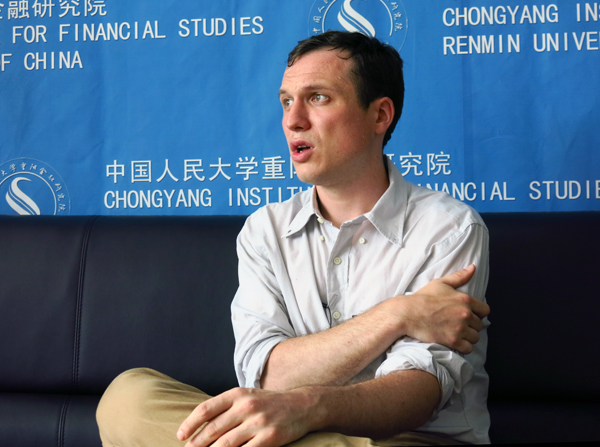 Samuel Thomas Overholt is the first American to work full time for a Chinese think tank. [China.org.cn/Li Xiaohua] 
China has the second largest number of think tanks after the United States, according to an annual think tank report by the University of Pennsylvania released in January this year. But while think tanks in the United States are highly internationalized, with a large number of researchers and staff from countries outside the United States, foreign staff are rarely seen in China's think tanks.
Twenty-nine-year-old Overholt came to China three years ago to study in a joint graduate program held by Nanjing University and Johns Hopkins University in the United States. He became a full-time employee after graduation this January.
"I didn't plan it; the opportunity sort of found me. I stuck to the work they gave me because it was interesting, and it was a match for what I studied in graduate school," Overholt said.
His daily work focuses on facilitating the work at the Institute. There are currently about 15 foreign senior fellows and many more foreign researchers in the Institute, but since most of them do not speak or read Chinese, Overholt, who has been learning Chinese for four and half years, lends a hand in translation and interpretation, and, in his own words, "advancing communication."
As the Institute was just established in 2013 and is still in expansion, multi-tasking is often necessary. Overholt sometimes is the translator, sometimes a coordinator, and sometimes even an interviewer for new employees. And as the only foreign member of staff in the Institute, he is always prepared to see where he can be of help "from a third party perspective."
"Finding my place among the different projects that we have is the most difficult thing," Overholt said.
Internationalization of Chinese think tanks
"Think tanks in the United States are an important part of American politics and media, and I think some of the think tanks there can be seen as role models for think tanks like the RDCY in China," Overholt said.
Chinese President Xi Jinping proposed the establishment of "new think tanks with Chinese characteristics" in April last year, and it was further written into the epoch-making Decision issued by the Chinese Communist Party last November. But compared to their Western counterparts, most Chinese think tanks are far from influential globally.
Only six Chinese think tanks ranked among the top 100 worldwide think tanks in a 2013 report by the University of Pennsylvania, and the nation's top rated Chinese Academy of Social Sciences was only the 20th on the list.
Apart from their late emergence and the restriction of funds and the overall environment, many Chinese think tanks study solely Chinese issues and their organizational structures are exclusively Chinese.
Wang Wen, executive dean of the Chongyang Institute for Financial Studies, summarized in an article the four obstacles that China is encountering in building more internationalized think tanks: first, many people fear that foreign participation in think tanks may turn out troublesome as the work is often tied to policy-making; second, there is the institutional barrier, in other words China has a complex set of rules when introducing foreign talents; third, the assessment and salary systems in China and the rest of the world are different; and lastly, some foreigners still doubt the independence of Chinese think tanks.
But Overholt's appointment is likely to encourage more foreign talents to come and help develop Chinese think tanks.
"It could be a signal that China and Chinese think tanks are becoming more open, and I hope my being here can make a positive contribution," Overholt said.
"I hope I can contribute to the development of Chinese think tanks and to the world, through this unique experience," he added.