Hong Kong on full alert for Ebola
CRI, August 7, 2014

Adjust font size:

Authorities in Hong Kong are stepping up efforts to raise awareness and prevent the spread of the deadly Ebola virus.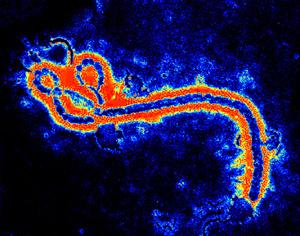 Ebola virus. [Photo: news.yixue.org]
The virus has claimed nearly 900 lives in West Africa.
Health officials have gone all out to prevent the virus from reaching Hong Kong, as the city serves as a stopover for flights between Asia and the rest of the world.
Leaflets have been handed to visitors from the worst affected countries as they pass through the airport, reminding them to report to health officers if they feel ill.
Professor Yuen Kwok-Yung is the head of Department of Microbiology with the University of Hong Kong.
"Prevention of Ebola or other infectious diseases is everybody's business, not just the government's. The government cannot do so much things. It is important that everybody comply with personal hygiene."
So far the city does not have any reported cases of the virus, despite an Ebola scare last week when a woman back from Kenya complained of feeling ill.
She tested negative.
Government officials have also dismissed concerns that Chungking Mansions, the maze of guesthouses and stores frequented by Africans, could become ground zero for an outbreak.