Education focused for the next generation in rural Gansu
China.org.cn / chinagate.cn, August 5, 2014

Adjust font size:

To easy the trauma, he has vowed to educate his two children to their brain ability so that they earn a better life, and also achieved what he had overlooked several years back.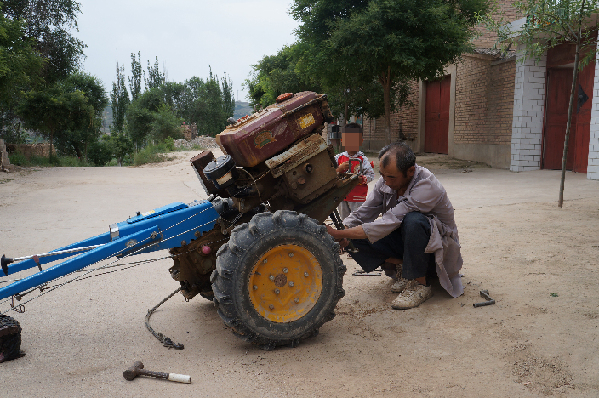 A farmer (front) in Daping Village, Dingxi, Gansu Province is preparing a tractor. A large number of young farmers have left countryside to cities and towns for higher-paid jobs, leaving only the elderly and children in the village. [China.org.cn By Wu Jin]
"When I was 18, I had no idea about the use of education. But when I understand it, it was too late for me to restart," Kang, who had all the qualification to join university, said.
Even though he is now one of the heads in the village where the impoverished life has been much improved under the strenuous efforts of the local people, he still sighed at the opportunity he had missed for university when he was only 18 in early 1980s.
"In those years, I had an opportunity to enter university, but I just let it go," Kang recalled.
Born in 1960s, when Daping Village suffered severe poverty, Kang grew up with a generation who made great efforts in transforming the dry land into green terraces, planted with corns, potatoes, wild vegetables and woods, as the land is 68.2 percent in forestation. Now the 564 villagers from 124 families with average 6,366 yuan (US$1,030) a year rarely worry much about foods. But they start to expect higher living standard.
According to Kang, unlike farmers who earned their bread by ploughing and feeding poultry can only net 6,000 to 7,000 yuan a year, migrant workers in towns and cities generate 170 to 200 yuan a day, almost twelvefold of what the farmers get. Therefore, a large number of young labors are flowing to cities and towns, leaving the families with the elderly and children.
Some young people capitalize on education in hope of changing their lifestyle after receiving higher education.
"I sent my two sons to universities, no matter how costly, I'm resolved to support them to finish their studies," Kang said.
Kang's dream has come true. His elder son is now a researcher in the Research Department of Economics of Anding District, Dingxi, after he finished his study in Gansu Agricultural University. Education changed his life as he is now living in a 109.36-square-meter apartment in the city, a house which is much larger than his father's.
Kang's younger son is still studying automobile maintenance and electric welding in Lanzhou Electric University. Kang hopes, the younger son can also live independently as an urban resident.