Extremists murder imam in Xinjiang
Xinhua, August 1, 2014

Adjust font size:

Police have shot dead two suspects and captured another in their investigation of the murder of a religious leader in Xinjiang Uygur Autonomous Region on Wednesday, police said on Thursday.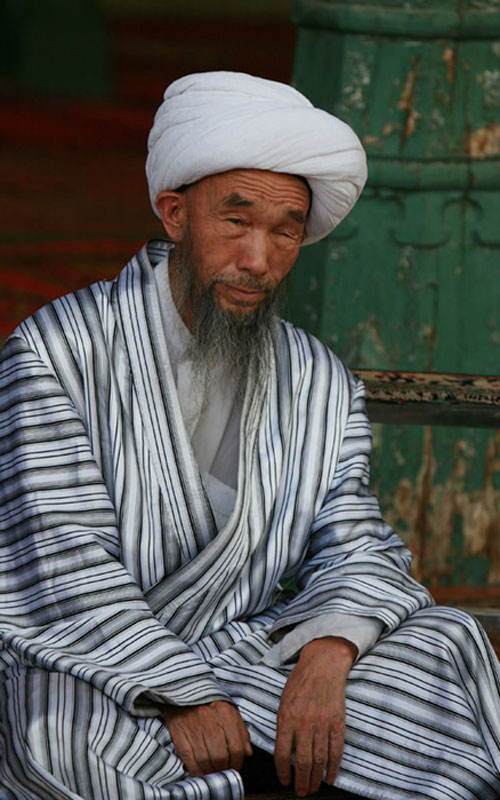 Jume Tahir, imam of China's largest mosque, the Id Kah Mosque in the city of Kashgar, was murdered by religious extremists on July 30, 2014. [File Photo / CRI Online]
The killings and arrest happened as the suspects resisted arrest with knives and axes at noon on Wednesday, according to the authorities.
Turghun Tursun, Memetjan Remutillan and Nurmemet Abidilimit were wanted over the murder of Jume Tahir, imam of China's largest mosque, the Id Kah Mosque in the city of Kashgar.
The 74-year-old, who enjoyed a high reputation among Muslims nationwide, was killed at 6:58 a.m. on Wednesday after he finished hosting the morning ritual.
According to police, the three suspects, influenced by religious extremism, planned to "do something big" to increase their influence.
Further investigation is underway.
On Tuesday, Tahir presided over the ceremony of Eid al-Fitr, which marks the end of the Islamic holy month of Ramadan.
Tahir had been practising as imam, the person who leads the prayer, in the Id Kah Mosque since 2003.
He was also a deputy to the National People's Congress and vice president of the China Islamic Association, which had called for peace and a stand against violence and terrorism following the recent terror attacks in Xinjiang.
The Id Kah Mosque, with a history of more than 600 years, receives an average of over 2,000 Muslims everyday. On important religious occasions, it can welcome up to 20,000 Muslims.
Terrorist attacks in Xinjiang seem to be showing no signs of abating. Dozens of Uygur and Han civilians were killed or injured in an "organized and premeditated" attack early on Monday morning in Shache County, Kashgar Prefecture.
A gang armed with knives and axes attacked a police station and government offices in Elixku Township, and some moved on to the nearby Huangdi Township, attacking civilians and smashing vehicles as they passed.
Police officers at the scene shot dead dozens of members of the mob.
On May 22, an attack on a market in Urumqi left 31 dead and 94 injured.