Behavior beyond classes
China Daily, July 29, 2014

Adjust font size:

When college teacher Ai Qing began her postgraduate studies at the education college of a university in Hangzhou, capital of Zhejiang province, she could not contain her excitement.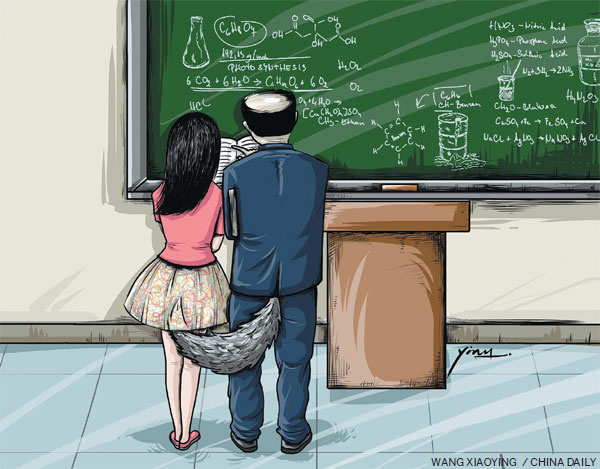 A scandal involving a university professor's alleged sexual harassment of a student is refueling debate over abuse on Chinese campuses.
The college dean, a famous scholar surnamed Xu, would act as her tutor.
"I always admired university professors. I thought that someone like Xu who had excellent academic credentials would help me a lot with my research and study," she said.
But Ai soon felt something was wrong.
Xu started sending her cellphone messages, asking her whether she had a boyfriend and about her previous relationships with men.
One day, the professor told her to stop by his office. He wanted her to work as his part-time secretary, claimed Ai who is not using her real name to protect her identity.
But Ai rejected Xu's offer that day. She became depressed in the following months and decided to leave the university.
Ai said that because of her personal encounters, she is not surprised by the latest major scandal to hit Chinese tertiary education - a history professor in Xiamen University of Fujian province has been accused of molesting and enticing female students into having sex.
The professor drawing the nationwide attention is Wu Chunming.
A blogger using the Internet moniker "Youth Handle" alleged in an online post that the history professor had enticed female students into having sex with him.
A photo supposedly featuring the man in bed and partially nude was also posted online.
The blogger claimed to be one of the victims of the professor and wanted to support another alleged victim of the history department who had earlier made online postings about being molested by an unnamed professor.
The other alleged victim, using the online name "Ting Yang", had posted online warnings in June for potential female postgraduates to keep away from a "beastly professor" of the department.
Xiamen University has set up a special team to investigate the allegations. During the probe, Wu will be prohibited from teaching, enrolling and advising students.
Recent years have seen a string of similar cases.
In 2011, a netizen posted a blog claiming that a professor at a university specializing in geosciences had required his female students to visit his home to discuss their studies and urged those who refused his request to consider the consequences.
In 2013, a netizen exposed on the Internet that the wife of Qiu Ting, a professor at the China Central Academy of Fine Arts, allegedly attempted suicide because Qiu had extramarital affairs with many female students.
Guan Kefeng, who works in the IT sector, is a graduate of Xiamen University. He said he does not know Wu Chunming and is embarrassed from being asked about the scandal-hit professor just because he is from the same university.
Like many others who showed interest in the case, Guan started to check the previous blogs of "Ting Yang", the first student who exposed the affairs.
Guan said his jaw dropped when he read the allegations claiming that Wu had touched Ting Yang's body and tried to kiss her when two of them were alone. Wu allegedly asked her to "take it easy" since both of them are adults.
"I never thought a university professor could do something like that," Guan said.
"If the accusations are proven to be true, the professor indeed is 'beastly', as what Ting Yang described in her blog," he said.
Lin Zhiming, a lawyer based in Fuzhou, Fujian province, said that Wu Chunming's case is not a legal issue but a moral one.
"Enticing a female student to sleep with him does not mean he did it against her will. If Wu managed to talk a student into having sex with him, it is a consensual situation," Lin said.
Although such behavior does not violate the law, it goes against the university's pertinent regulations and is unethical, Lin said.
Lin suggested that students who have been or may be harassed by professors should be brave and collect evidence to expose the educators' immoral acts.
Ai Qing, the college teacher who claimed she had been harassed by her tutor when she started her postgraduate studies in 2007, said she considered Ting Yang a hero for being bold enough to expose her professor's alleged acts.
After quitting her course, Ai learned from former classmates that some of her seniors had also suffered from Xu's alleged harassment.
"The more you are shy and timid, the more outrageously the teachers will bully you," Ai said.
Ai said her former tutor tried to use his position to intimidate her.
"Be a smart and good girl and I will fix every problem related to your studies. I can help you find a decent job after you graduate," Ai claimed that Xu said to her.
"He tried to put his hand on my shoulder but I evaded it," she said. "I was in pain and under tremendous pressure."
"I expected a professor to be gentle, civilized and refined. Student and teacher should respect each other.
"Those notions were completely shattered."
Ai said the professor continued to harass her. He told her there would be a three-month assessment for each postgraduate student in their first year of study, she said.
"He said that if the student did not behave well, the tutor had the right to ask the student to leave," Ai said.
"I regret not exposing him and I will definitely collect proof to report Xu to the university authorities if I have a second chance," Ai said.
Zuo Lei, who received his doctorate from a university in Nanjing, capital of Jiangsu province, said the relationship between professors, especially those who act as tutors, and students are somehow "profit-tinged".