Serious drought hits China
Xinhua, July 28, 2014

Adjust font size:

Lingering drought in north China's Inner Mongolia Autonomous Region and central China's Henan Province have scorched rivers and reservoirs, causing power and water shut-offs and drinking water shortages.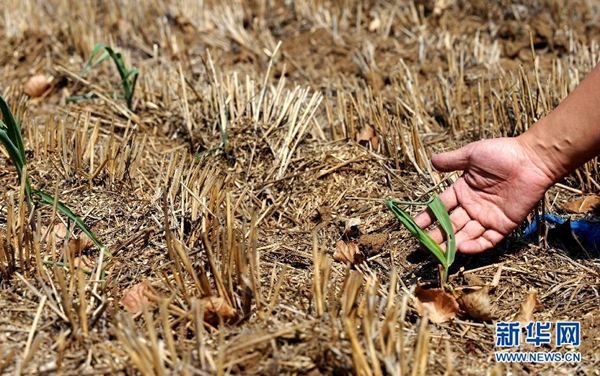 Pingdingshan City in Henan Province has had its worst drought since 1975. [Photo/Xinhua]
In Inner Mongolia, about 600,000 people in seven prefectures and cities have been affected by the drought since April, with half of them lacking drinking water, according to the regional civil affairs department.
Some 150,000 hectares of farmland and 16.4 million hectares of pastures have been affected in the worst drought in three years. About 1.34 million heads of cattle also lack drinking water.
The drought has caused direct economic losses of 229 million yuan (37 million U.S. dollars), according to initial calculations.
Araxan Prefecture has suffered the worst drought since 1961 with more than 140 consecutive days without precipitation. About 98 percent of pastures in the prefecture were affected by the drought.
In Henan, precipitation in the province since June was 50 to 70 percent less than past averages, drying up a third of small reservoirs and more than half of small and medium-sized rivers, according to the provincial flood control and drought relief headquarters.
About 900,666 hectares of crops in the province had been affected by the drought as of Saturday.
Pingdingshan City has had its worst drought since 1975. The Baiguishan Reservoir, the major source of drinking water in the city, was at dead storage level.
Water supply for car wash businesses, commercial swimming pools and public baths has been cut off in the city. Major water-consuming enterprises were ordered to restrict their consumption.
In the provincial capital of Zhengzhou City, the municipal power grid decided to restrict power supply for some residential compounds, enterprises and business operators for four days starting on Sunday.
Scorching weather with temperatures above 35 degrees Celsius will hit many parts of Inner Mongolia in the next two days and no rain is expected next week in Henan, according to weather forecasts.