Typhoon Rammasun claims 56 lives in China
Xinhua, July 24, 2014

Adjust font size:

The death toll from super typhoon Rammasun had increased to 56 as of Wednesday morning, with another 20 missing, latest official figures show.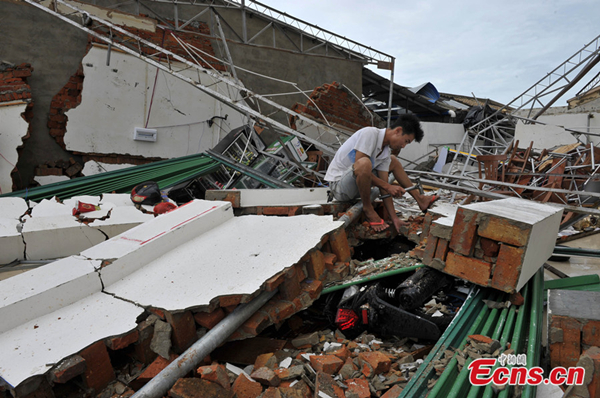 Photo taken on July 19, 2014 shows aftermath of super typhoon Rammasun at Wengtian town of Wenchang city in south China's Hainan province. [Photo/CNS]
Rammasun is the strongest typhoon to hit south China in four decades, bringing gales, downpours and floods. It has affected more than 11 million people in the provinces of Guangdong, Hainan and Yunnan as well as Guangxi Zhuang Autonomous Region, said a statement from the Ministry of Civil Affairs.
While deaths in south China's Hainan and Guangxi remained at 19 and 9 respectively, Yunnan reported ten more deaths in the 24 hours ending on 9:00 a.m. Wednesday, making a total of 28.
Over 862,000 people have been resettled and some 261,000 are in urgent need of basic necessities. The rain has destroyed 40,000 houses and 258,000 hectares of crops, the ministry said.
Combined direct economic losses in affected areas amount to 38.48 billion yuan (6.16 billion U.S. dollars).
Economic losses in Guangxi increased from Tuesday's 9.4 billion yuan to 13.5 billion yuan, the highest among the four regions.
Despite zero deaths so far, Guangdong also suffered over 13 billion yuan in direct economic loss.
Direct economic losses in Hainan stood at 10.9 billion yuan.