Mobile Web users overtake computer ones
China Daily, July 22, 2014

Adjust font size: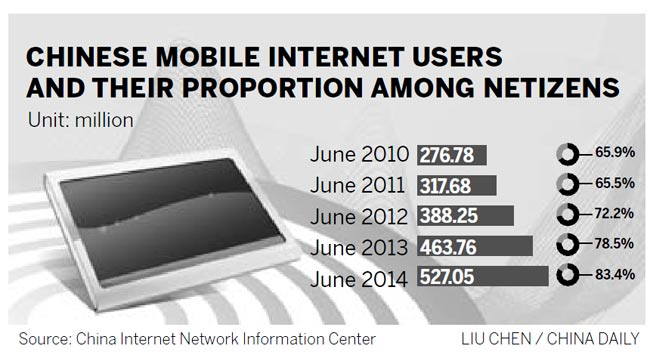 The number of people who surf the Internet via mobile devices in China has for the first time exceeded the number using computers to go online, an industry report said on Monday.
The number increased by 14.42 million over the past six months, so that now 83.4 percent of China's Internet surfers are using mobile phones to go online, according to the report issued by the China Internet Network Information Center, a government-backed industry administrative body. Popularity of social media websites declining
The total number of Chinese netizens was 632 million by the end of June, 527 million of whom logged onto the World Wide Web through their smartphones, the report said.
It is the first time that the number of mobile Internet users has surpassed that of those surfing the Web in traditional ways, such as with personal computers and laptops, said Liu Bing, deputy director with the CINIC.
"In other words, the mobile phone can be regarded as the key terminal device for Chinese to get online," he said.
As the mobile network has taken the lead in the country's Internet development, its status has also become firmer among netizens, he said.
The increasing number of smartphone owners has driven a rapid rise in e-commerce, instant messaging and entertainment applications, "which reflects a diverse demand of netizens", he said.
According to the report, the number of users who use mobile phones to make payments has increased 63.4 percent from January to June, with the growth of payment apps likewise surging in that period.
"The mobile payment is becoming much closer with consumers and it has been making greater contributions to e-commerce development,"Liu said.
Yin Jingxue, a mobile Internet analyst, confirmed that mobile devices have played the more important role in Web development in the country.
"Instant messaging applications such as Weibo and Wechat are still used the most among mobile Internet users, followed by online shopping apps, including Taobao and Jingdong," Yin said.
People aged 20 to 40 are the main mobile Internet users, Yin said, adding that they are more likely to try new applications.
She said she does not think that mobile devices will replace computers. "Instead, different Internet users will find their own channels to get online and apps will be promoted in accordance with their various demands," she said.