Billionaire drinks tea from US$45 mln cup
china.org.cn / chinagate.cn by Zhang Lulu, July 21, 2014

Adjust font size: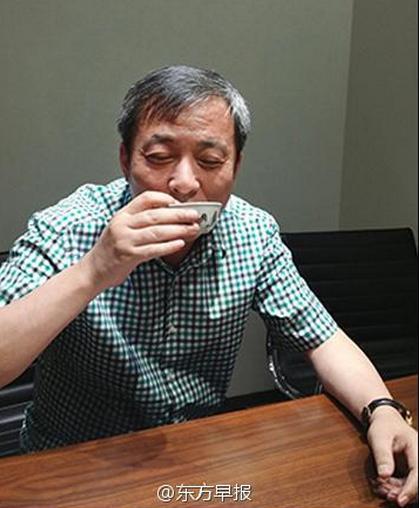 A Chinese billionaire takes a sip of tea from a US$45 million cup, described by netizens as the "most expensive cup of tea in history." [Photo/Sina Weibo]
Not many people care much about their tea cup as long as it can hold water or tea to quench their thirst, but when a Chinese billionaire takes a sip of tea from his cup, it draws the attention from the national public.
Billionaire and art collector Liu Yiqian was seen on Friday taking a sip from his newly bought "chicken cup," an ancient Chinese porcelain cup that comes at a staggering 280 million yuan (US$44.8 million).
Liu bought the cup from Sotheby's Hong Kong spring sales in early April, which broke the world auction record for Chinese porcelain.
The cup arrived in Hong Kong on Friday. After swiping his credit cards 24 times to pay the price, Liu took a sip from the cup.
"I just want to express my excitement at that moment. The cup has such a long history, so when I got it, I simply poured some tea into it without even wiping the cup and drank the tea," Liu said.
The picture of Liu drinking tea from the cup went viral online and netizens have described that cup of tea as the "most expensive in history."
The cup derives its name from the illustrations on the surface – a scene of a rooster and a hen leading chicken to search for food amongst flowers and stones.
The "chicken cup" was made during the reign of the Chenghua Emperor (1465-1487 A.D.) during the Ming Dynasty. Only 10 of them are intact now, with four owned by private collectors and the rest in museums. Not a single one is owned by any Chinese public museum.
Liu's cup is now stored at a bonded warehouse in Shanghai, which will later be housed in the Long Museum owned by Liu and his wife.