Wider women's parking spaces drive sexism debate
China Daily, July 21, 2014

Adjust font size:

The parking spaces outside a shopping mall in the northern port city of Dalian are distinctive: marked out in pink, stating "Respectfully reserved for women."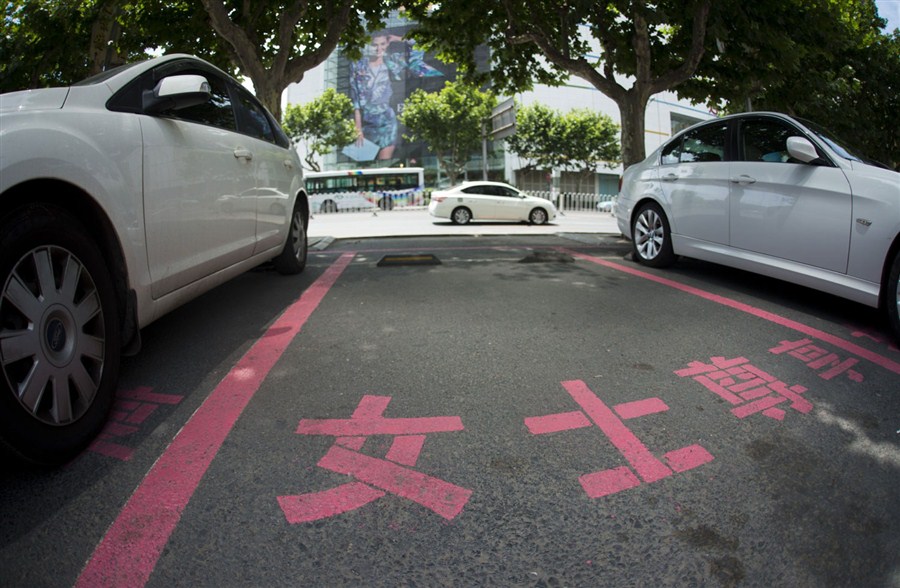 A woman-only parking space with an extra 30 centimeters width at Dashijiedaduhui, or World Metropolis Center, in the seaport city of Dalian in northeast China's Liaoning Province.
And there's also the fact that they're about 30 centimeters wider than normal.
The slots at Dashijiedaduhui — or "World Metropolis Center" — have sparked debate by China's public, which officially embraces gender equality but where, in reality, old-fashioned sexism is rife.
The mall, in the center of Dalian, has little to distinguish it from thousands of other retail complexes across the country.
It has chain clothing stores, fast food franchises, glass lifts, a cinema and lots of coffee shops, a favorite hangout of the middle class.
Unusually, though, the 10 spaces outside the main entrance were provided after women had trouble parking in the standard basement slots, managers said.
"I think this is very convenient. The other parking spaces are too narrow," said user Yong Mei. "It's not gender biased. It's just that women have a few issues with vision when parking," she added.
But outraged commentators on Chinese social media accused the mall managers of sexism and cliched thinking.
"This is supposed to respect women, but actually it's an insult," one person wrote.
The mall managers deny the allegations. "We just wanted to make things easier for women, who make up most of our customers," said Yang Hongjun, herself a woman.
"It's not an insult to women at all. If their parking spaces are larger, it's only for practical reasons. It doesn't mean that women drive less well than men," she said.
However, some members of the public were keen to link the initiative to stereotypes about women drivers.
"Women don't really know how to park," said Wu Zhicun, a male customer at the mall.
"The few times I've come close to crashing was basically with women driving the other car. I've noticed they're a bit rough at the wheel, they only look forwards, too often they ignore their mirrors," he said.
And an Internet user claimed: "The two most dangerous things in the world are men who cook and women who drive."
Driving standards in China are often lamentable, regardless of which gender is at the wheel.
According to reports, officials said that 60,000 people died on China's roads in 2012, the most recent figures available.
The parking initiative is not unprecedented — other countries have similar female-dedicated spaces, including South Korea and various European nations.
The latest Chinese controversy echoes a series of microblog posts by Beijing police last year advising women on driving techniques — including not wearing high heels, releasing the handbrake before setting off and not panicking if they suddenly realize they're going the wrong way.
"Some women drivers lack a sense of direction and while driving a car they often hesitate and are indecisive about which road they should take," read one of the entries on the police department's verified microblog.
Another featured a cartoon depicting a confrontation between a police officer and a woman driving a vehicle shaped like a large red high-heel shoe.
According to the World Health Organization in 2013, globally, men are more likely to be involved in accidents than women, while 77 percent of those killed in road traffic accidents are men.
Even so, for some posters the Dalian parking places amounted to discrimination against male drivers.
"It's always women who enjoy privileges!" one said. "Men have become the weaker sex."